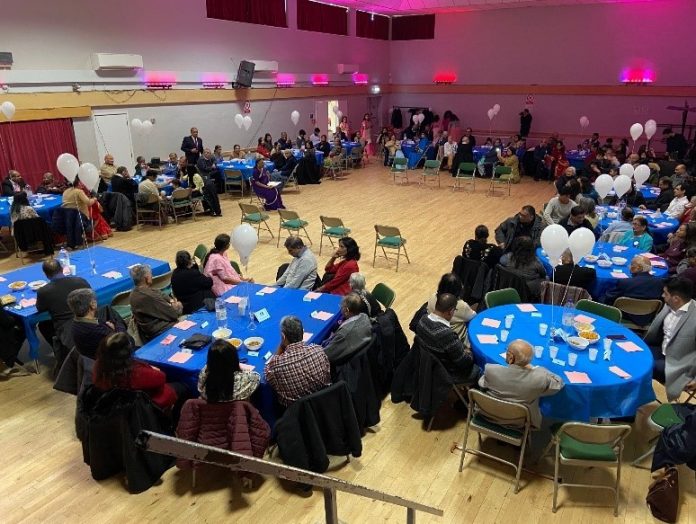 A Moment of Celebration – specially dedicated to the respected seniors of our community
It seems like a lifetime ago with the current world situation, yet it was only a few months ago that we were able to hold this wonderful event. The proposal was brought forward to the committee for a special programme exclusively for the elderly members of our community; to appreciate their dedication and sacrifices that they endured to ensure the following generations were able to grow and flourish. It was also in recognition of the hardships they selflessly went through for the betterment of the community which would have been especially difficult in a new country as probably 1st generation migrants. It was unanimously agreed upon and planning soon got under way.
Area members were notified via e-newsletters and word of mouth that a programme was being organised for those over 75. They were asked to register their names during Paryushan last year and though the exact date had not yet been set, we received nearly 50 names! Once we had this number, the committee got planning the finer details. The date was set for Sunday 9th February 2020.
Personalised invitations were sent out inviting each of them and 4 guests of their choice with a deadline to respond by. In true Oshwal spirit, a couple of them also called us offering to help out with any preparations for the event. Sadly, we also lost two of these members between Paryushan, when they registered, and the time when we sent out the invites. However, without hesitation we agreed to send out an invite to their families. By mid-January, a month to go before the event, we had a fair idea of the numbers attending and we zeroed in on the itinerary.
On the day, the weather was against us with winds causing havoc all over the country forcing a few to stay away. Some were a bit poorly and could not attend. On the other hand, there were a couple who changed their mind at the last minute and decided to join in.
The committee members, their spouses and some volunteers had all been allocated tasks before the event. Some laid out the decorations while others prepared the snacks; some also took time out and popped a few balloons in the process! Soon the hall was ready with tables covered in blue, white balloons all around, appropriate mood lighting and background music! Just before 3pm as planned, the committee members and their spouses – ladies dressed up in pink sarees and gents in blue suits – were ready to welcome the guests!
On arrival, the honoured guests were personally greeted, given a named blue and white rosette and escorted to their assigned tables. It was wonderful to see the expressions of surprise as they walked in and their eagerness to chat with each other! Once most had arrived and were seated, a welcome drink of badam, pista and kesar milk was served with some nibbles kindly donated by Jayaben & Premchandbhai Shah.
Nikunj then welcomed all and asked Kamlaben C Shah to lead us in a prayer. After observing a minute's silence remembering those not amongst us, he explained the reason for holding the event and the program for the rest of the afternoon. He then called upon Madhuben M Shah who read out and explained the importance of maintaining a healthy relationship between different generations within a community.
Soon after, the 'Ramat Gamat' got off with the first game designed specially for those couples 'Over 75' who were both present. The ladies sat on one side of the hall whilst their husbands waited apprehensively on the other. When all were ready, the husbands had to walk or run back and forth to their spouse each time giving her a bangle, a necklace and a chandlo! On their final run, they gave a red rose to their wives after which they both walked back together. We had 3 rounds of the game with 11 pairs in total, one pair being grandma and grandson! All were truly flabbergasted to see the enthusiasm and the joy with which the 'Over 75s' participated; the ladies certainly got a treat from their spouses!
After the game and a very welcome rest for the participants, Dillon Shah gave a short reading about how important his nani, Kanchanben D Shah, is to him especially what she has taught him about Jainism. The next game was for those Over 75's who were single. This time they sat around in a circle to play 'Pass the parcel' picking from a lucky dip of 'tasks' when the music stopped. Some had to talk about their life in India or Kenya before moving to UK, while others had to sing a song or a stavan. While some were asked to mimic animal sounds, others had to dance to bollywood music! As spectators, it was a sheer pleasure to note the fun they were all having, letting go of any reservations that they may have had. They certainly kept some of us laughing to the point of tears!
The next recitation was from Jia Shah who spoke about her bond with her great grandmother – their family had all four generations present at the table! She appreciated the love and time that Rambhaben G Shah has given her. The time had now come for us to present the guests of honour with a token of appreciation on behalf of the community.
One by one, each of them was called out and welcomed to the centre of the hall. A committee member and their spouse then presented and draped a shawl around their shoulder as an embodiment of respect for them – Bahuman. 32 members were presented the shawls with the eldest, Radiatben Raichand Gudka – 96 years young – being presented by the area office bearers. It is fair to say that it was truly well appreciated by all the recipients but even more humbling to us who were presenting.
Next came the grand photo session to mark the occasion with all the 'Over 75s' together. Suddenly there was a hoard of 'paparazzi' gathered everywhere as family members joined in to capture the pure joy that shone through everyone's beaming smiles!
To sum up, we had a sumptuous dinner of puran rotli, khandvi, 2 shaak – ringda bateta and moong daal & spinach, matar bhat and kadhi! This was complimented with pickles, far far and chaas. The garam garam puran went down so well as people went for seconds and thirds. Vilasben R Shah sang beautifully while we had dinner.
Going round the tables, there were so many chuckles and warm complements. Not only did we enjoy the games and the presentations, but most importantly those special guests had a fabulous time – saying it was the most fun they had had in a very long time feeling really honoured. Upon reflection – especially during this period of Covid-19 lockdown – on that day we shared the sorrow, the hardship, the joy, the laughter, the friendship and the unity amongst all of us; it truly was a Moment of Celebration!
---
Standing L-R: Chandulalbhai Jivraj, Amritlalbhai Virpar, Manekchandbhai Nangpar, Gosarbhai Bhagwanji, Amratlalbhai Fulchand, Ranjanben Amratlal, Kamlaben Chandrakant, Narendrabhai Mulchand, Avinashbhai Premchand, Premchandbhai Raishi, Ratilalbhai Khetshi
Seated back row L-R: Sarlaben Chandulal, Kanchanben Gulabchand, Narabdaben Manekchand, Manjuben Gosar, Sudhaben Ravinchandra, Radiatben Raichand, Savitaben Chhaganlal, Jayaben Premchand, Kanchanben Dipchand, Shantaben Ratilal
Seated front row L-R: Savitaben Premchand, Vilasben Ramnik, Savitaben Premchand, Vanitaben Mohanlal, Rambhaben Govindji, Radhaben Mulchand
On the floor L-R: Motiben Mansukhlal, Shantaben Chimanlal, Chimanbhai Meghji, Jayaben Kantilal, Jayaben Keshavlal
---
For more picture, click here.