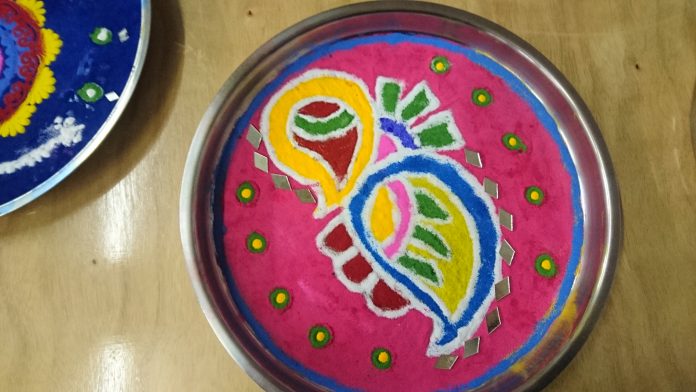 Every Monday and Thursday mornings, we hold yoga sessions. These sessions run from 10.30am to 12.30pm at EKTA Centre.
On Mondays after the yoga session we have various activities run by Bijalben, Minaben and Pritiben. The Diwali Rangolis on the thalis were done by the following participants: Jyotsnaben, Madhuben, Lalitaben, Pravinaben, Nimuben, Arunaben, Rashmitaben, Maniben, Rakshaben, Bhanuben, Prabhaben, Taraben, Suryakalaben, Kirtiben and Rajeshbhai.
We would like to thank our Yoga teachers Prabhubhai, Anilaben, Pravinbhai and Kantaben who teach on Mondays. Also thanks to Dinaben who teaches on Thursdays. Thanks also goes to the standby teachers Jyotiben and Bhanuben who take on the classes when Dinaben is away.
Lastly, a big thank you to all the volunteers who help out on both the days clearing up and various other duties.