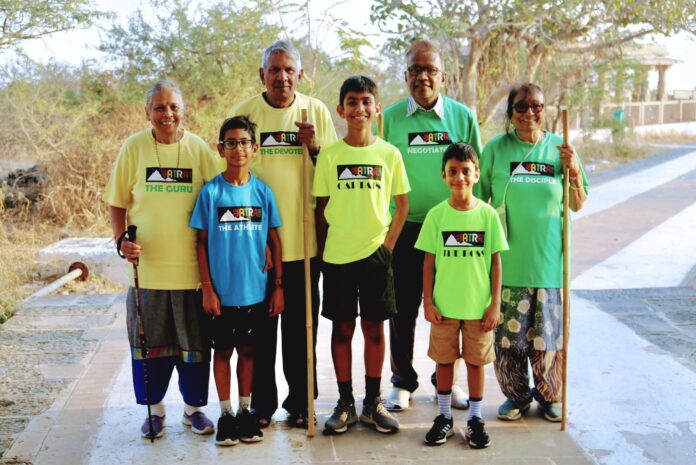 In December last year, my family and I travelled to India to do a Jatra. Jatra means taking a journey to a Jain place of worship. We visited Palitana, Girnar, Shankeshwar and the Delwara temples.
In this blog, I will share a few facts I learnt and my experience of these beautiful Jatras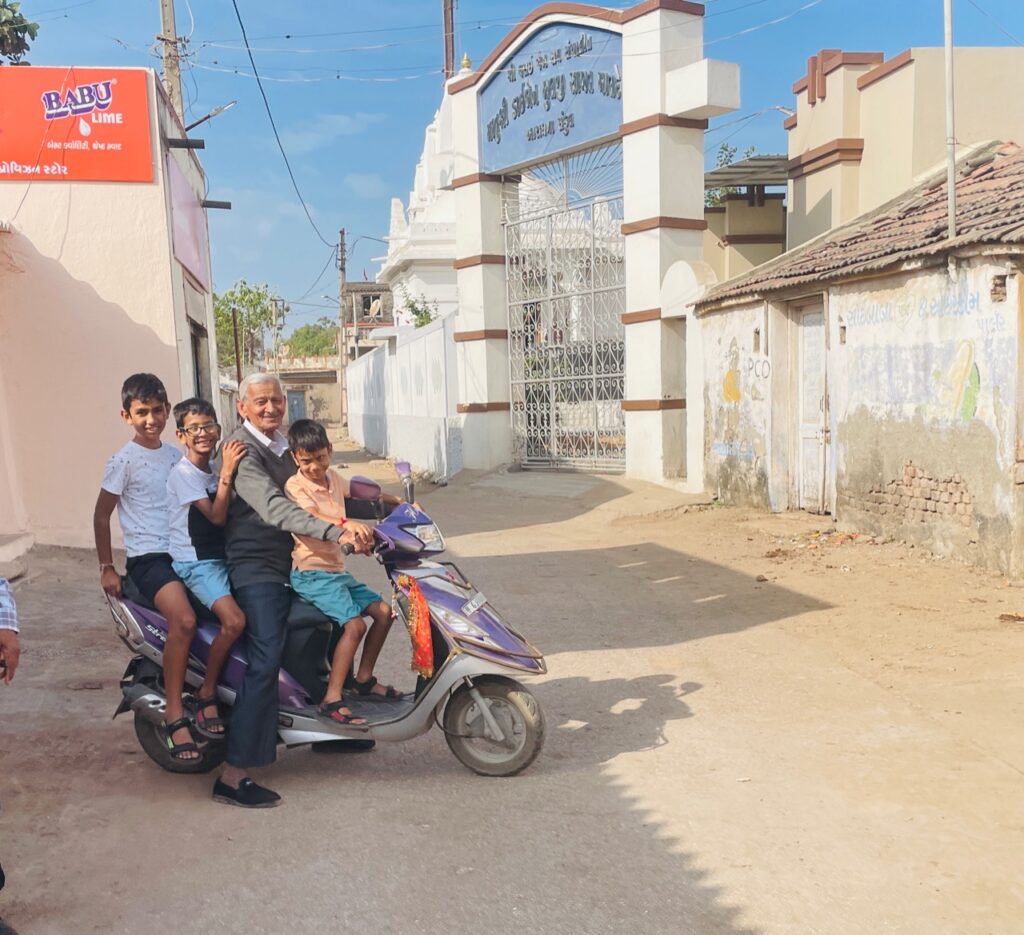 PALITANA
On 17th of December at the crack of dawn, I was climbing the 3750 steps of Palitana. We started climbing at 5'o clock in the morning because it gets way too hot to climb in the day.
Palitana is dedicated to Shree Rishabdev Bhagvan [1st tirthankar]. During our hike up Shatrujaya Hill (route to Palitana's Derasars) we saw an amazing scenic view.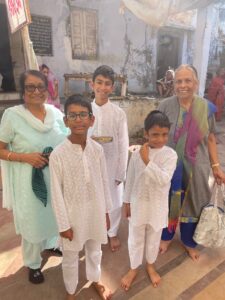 There was a spectacular sunrise climbing up the steep steps.
One-third of the way up, I had a stomach ache and it felt very uncomfortable. But I was determined to get to the top. The hike was rough and tough. Thanks to my family's encouragement after two and a half hours, I made it to the derasars.
The whole experience was extraordinary and brilliant! It was an athletic achievement and an incredible experience. Our next stop was 164.1 kilometres away…
GIRNAR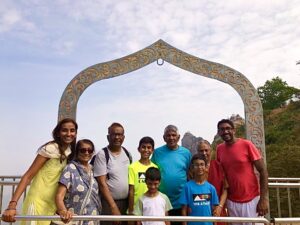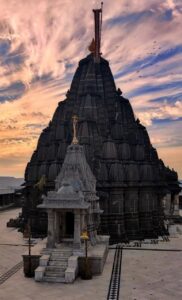 Girnar is also known as Junagadh. It is even higher than Palitana having a mind-blowing 8000 steps. The Girnar temple is dedicated to the 22nd Tirthankar Neminath. There is a large idol of Neminath Bhagwan made from black granite.
I learnt that Girnar is the first Jain derasar to be ever built in the whole of INDIA! I was told the next 24 tirthankars are going to be born there! Fascinating!!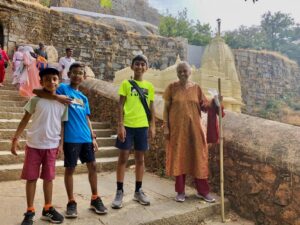 From there we went to Mount Abu to visit the Delwara temples
DELWARA TEMPLES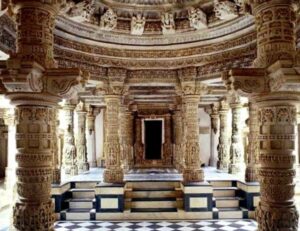 The Delwara temples are full of architecture and design. They are formed with pale white marble. It's rich in carvings and brilliantly decorated. The marble was carried by elephants all the way up Mount Abu. How strong and fit must they be!?
There are many elephant marble statues in Delwara. This is to recognise the part elephants played in building such a magnificent and majestic site.
In addition, the Delwara temples were built 1000 years ago and they had no such thing as mechanical devices. So, can you imagine going up the twisty roads of Mount Abu without any mechanical devices and building all of the fascinating and extraordinary temples?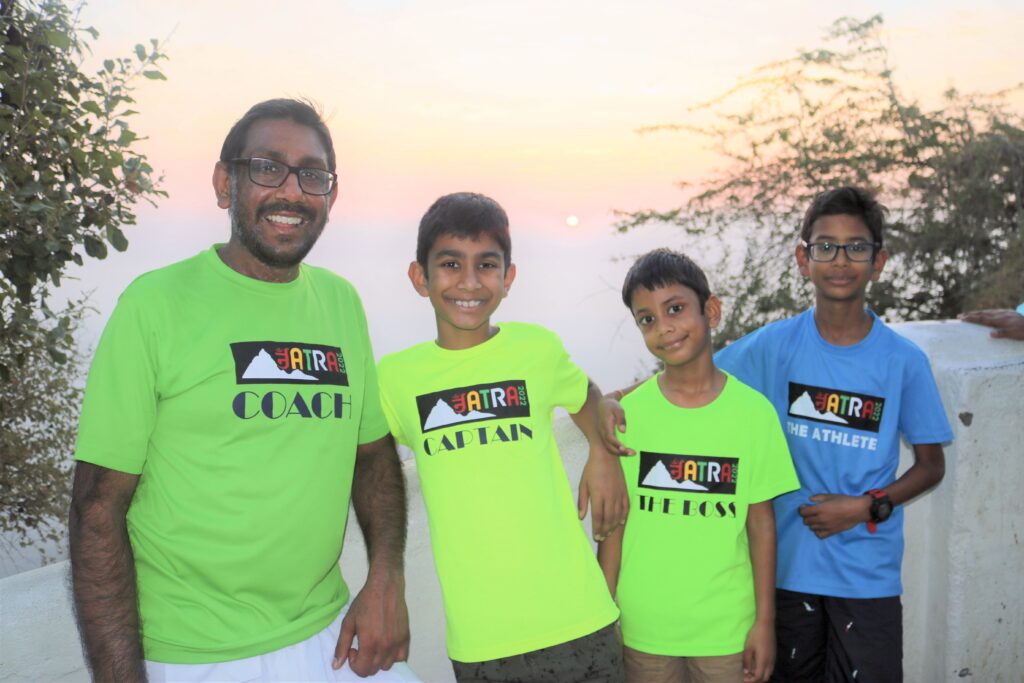 This was the end of our phenomenal Jatra!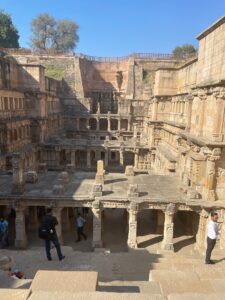 On our way back from Mt Abu we visited another unique site that was also very fascinating. This was called Rani ki vav (queen of well).
RANI KI VAV WELL (Queen of well)
This was a site which had a well that was built 900-1000 years ago. It was built to store water from the Saraswati Lake. It was excavated in 1968. Excavated means to dig up the ground to discover the fantastic and attractive carvings of the well. It took a few years to excavate. The well is 64 meters long 20 meters wide and 27 meters deep.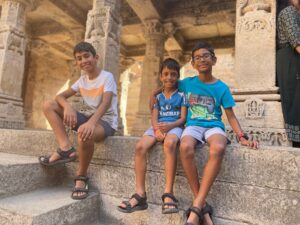 I was so amazed to visit this place. Such a fantastic discovery! Like the derasars, it is so amazing to learn how the well was constructed so many years ago.
Overall, I have had a fantastic time exploring India; and here are some of my Indian discoveries:
FOOD- The food in India was very spicy and also, we don't have food as we do here they have something called street food (panni puri and kachori).
TOILETS- The toilets are just one hole in the ground so you have to squat and go.
TRANSPORT- Rickshaws are an Indian type of taxi which have NO windows or doors, so you can easily fall out!
SUNSETS – Sunsets in India were much more spectacular than you could even imagine. They were better than extraordinary, and very beautiful but also the sun would set so quickly. They would approximately set in about 5-10 minutes!
DOL BATH – Last of all, I would like to mention the dol baths. This is where you have a jug and bucket full of water and you use the jug to scoop water from the bucket and pour it over you. Such a fun way to shower!
I hope you enjoyed reading about my Jatra experience!
Thank you.
Aryan Malde