After a long, anticipated wait, the day finally arrived for the departure of the North East Cultural & Heritage trip to Belgium, as we planned to view the Antwerp Derasar, Keukenhof Gardens and Bruge. We had a full coach of 51 passengers, with someone coming all the way from Northampton to join! Divya from Sona Tours was our guide and host for the long weekend, with many years of experience in managing a coachload of Gujaratis. Subhash, our driver, was wonderful and ensured we had a very comfortable journey.
After picking up around 14 passengers from Harrow, and the remaining from Arnos Grove, we finally started our exciting weekend at 7:50am, after boarding our last two members, Ushaben and Varshaben, arriving fashionably late. Little did they know, this would become branding throughout the trip… but what fun everyone had, especially the group at the back of the coach, who were the rowdiest with constant chatter and laughter coming from their direction.
In no time at all, we arrived in Dover and boarded the ferry to Calais. From Calais, we headed to our first stop, a Belgian Chocolate factory, where we stopped to have lunch. They had such a lovely selection of beautiful handmade chocolates, which I am enjoying as I write this article.
When it comes to food, I don't think anyone can beat us Gujaratis. We always pack double, sometimes triple, but what a selection of food we had during lunch outside the chocolate factory. You name it, someone had brought it, and, as is our nature, everyone shared it what they brought. Suffice to say, no one went hungry on the trip. In fact, I probably put on a few pounds over the weekend.
Then it was onwards to Ostend, and a walk down the lovely promenade and sandy beach. The weather was against us, as the wind was fairly strong, along with the sun and a spot of rain. But that did not stop everyone from taking a stroll along the promenade. Dad and I managed to stop over and have a tasty Belgian waffle, with a double helping of chocolate.
Next stop was the beautiful Antwerp Jain Derasar, where everyone was invited to perform aarti together. Although our visit was brief, we could see the beauty of the building and its wonderful carvings. We finished off with a group photo on the steps of the Derasar.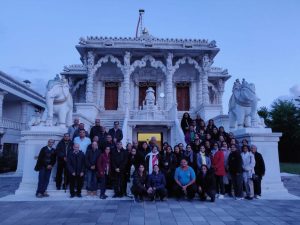 After a good night's sleep and a hearty breakfast, we headed off to our main event, the Keukenhof Gardens. Everyone was provided with a delicious packed lunch, giving us the energy to walk around and see the beautiful flowers on display. There were endless displays of wonderful tulips, all of different colours, shades, shapes and sizes. This is certainly a place to visit for anyone going to Belgium. We went up to the traditional windmill, providing a mesmerising view of the surroundings. A visit to the tropical flower displays is a must, which has such a superb collection of orchid of all kinds. They looked so perfect, I was convinced they were artificial flowers! The facilities provided are great, with wheelchair availability (for a small, refundable deposit), meaning anyone not able to walk far is still able to see the wonders of the gardens.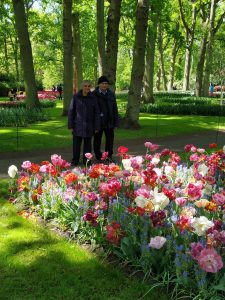 It was sad to leave Keukenhof, but we headed off to Amsterdam and began with a great Canal Cruise, showing us all of the beautiful architecture and traditional buildings. I would definitely recommend the cruise to relax and see the history of the city. After the cruise, we headed off to the best meal of the trip, which was a traditional and simple but delicious and tasty Punjabi meal. The meal was finished off with a selection of ice creams and then back to our hotel.
Monday arrived, and with it the sadness that the trip was almost over. We headed off to the charming and tranquil city of Bruges, a key tourist attraction and another Canal Cruise in and around Bruges, one of the best ways to see the sites. Before the cruise, the group took a leisurely stroll through the streets of Bruges, passing the little pastry shops, cafés and tourist shops. We visited the central square, key tourist location in the centre of Bruges, full of side streets, restaurants, and shops. Time for another stopover at the waffle shop, and we tried out some Belgian chips.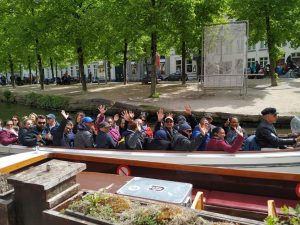 Soon, it was time to head back to the coach. The committee and Divya decided we should have our lunch in the park area on the way back. With that, she went back to the coach with a few helpers to bring the food, bowls and plates to make a fantastic bhel mix in just 30 minutes. Whilst the team prepared the food, some of us worked up an appetite doing some basic yoga exercises. We got some funny looks from the passers-by, who were probably wondering what we were doing. The bhel was superb; even though I had chips, I still ended up eating more.
Sadly, it was time to head home, but not before Diyabhai's masala chai and, of course, some theplas and pickle. Such a lovely trip and one of the best coach trips I have been on, could have easily stayed an extra day! Everyone was friendly and we shared many laughs, jokes, memories and photos over the long weekend.
Well done North East Cultural & Heritage committee, yet another superb trip. Suffice to say, the next trip you plan has already got one coach-load of names pre-registered. Keep up the good work.
By Shaina Retesh Shah
---
Click here to see more photos from the event