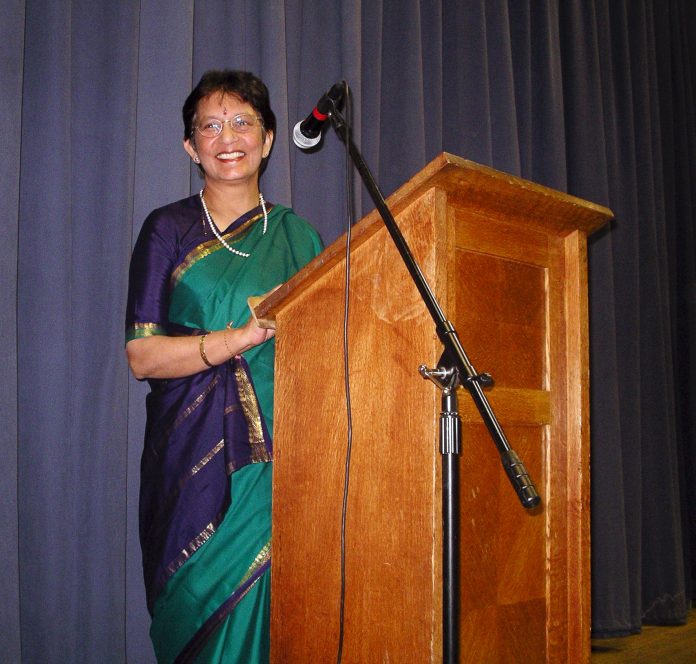 JYOTIBEN KISHORILAL SHAH
It is with regret that we have to say a heartfelt farewell to the Late Jyotiben Kishorilal Shah who was a pillar of the North Area Gujarati school for many years and passed away on 15th July 2021. Jyotiben was a teacher at the school in the mid 1980's before becoming joint headteacher with Jyotiben Ashwin Shah in 1989 at Manor Hill School (now called Compton School). As head teacher, Jytoiben was very hard working and committed to improving the standards of teaching and education for the students. The following year this was rewarded with 7 students achieving A grades in their GCSE for the first time since Gujarati school's inception. With Jyotiben's diligence and knowledge of Gujarati syllabus and curriculum the school managed to establish schemes of work for each class. Thereafter, there was no looking back, the school and the students flourished, achieving excellent results year after year.
During this time, Jyotiben started and chaired teacher's monthly meetings that were held at Friern Centre to ensure the smooth running of the school. Jyotiben would encourage teacher training via several organisations including the Cambridge Board which set the GCSE exams. She managed a lot of the administration alongside Ashwinbhai, also doing all the GCSE co-ordination of exams, liaison with the college office exam team through Woodhouse College. Despite all this work she took care to ensure that teachers and students were happy in the school.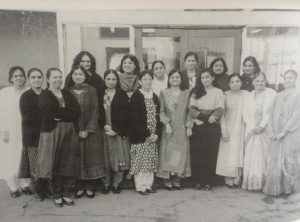 Gujarati School Teachers
From left to right: Kokilaben, Ritaben, Maltiben, Ansuyaben, Anjuben, Manishaben, Shilaben, Jyotiben, Lalitaben, Shobhnaben, Anilaben, Hinaben, Chandraben, Kusumben, Anilaben, Nimuben, Pramilaben
At the time, teaching material was primarily from India, which did not always work well with our children whose main language was English and their experience was growing up in the UK. Therefore, North Area School produced and developed six level of Gujarati books all compiled by teachers, to meet the needs of our students. Jyotiben was instrumental part of this team. In addition, to raising the teaching standards, under her leadership the school held very popular annual Variety Programmes, showcasing the students' abilities not only in Gujarati, but in music, dance and culture. This tradition still carries on and the current students continue to display their wonderful talents every year.
Jyotiben's contribution to North Area Gujarati School and OAUK has had far reaching impact in preserving our mother tongue and culture. Her dedication, calm and warm manner will be remembered, and we hope her story will inspire others to teach and volunteer their time to help others.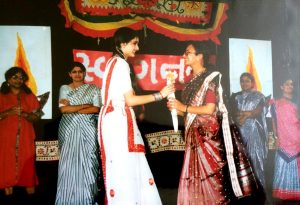 Gujarati School Variety Programme