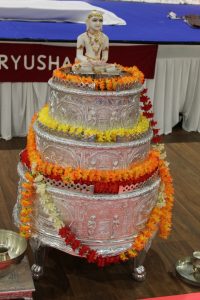 The spirit of the religious celebrations was evident with volunteers wholeheartedly setting up the hall and decorating the Derasar on the festival's eve i.e.  Sunday 25th Aug 19 and the enthusiasm and joy of the celebration of this Maha Parva that followed for the 8 days.
All our members thoroughly enjoyed the celebrations for the eight auspicious days with very positive feedback and support from our members in bidding for Aarti, Mangal Divo and Swapnas and for the generous donations for the Swamivatsalya Bhojan, Hall Rental , Jiv Daya / Anukampa and General Donations and not forgetting prabhavna donors. As always Pratikraman Sutras for the last days were sponsored by the members with bidding completed very promptly with great support from the members and this is very much appreciated.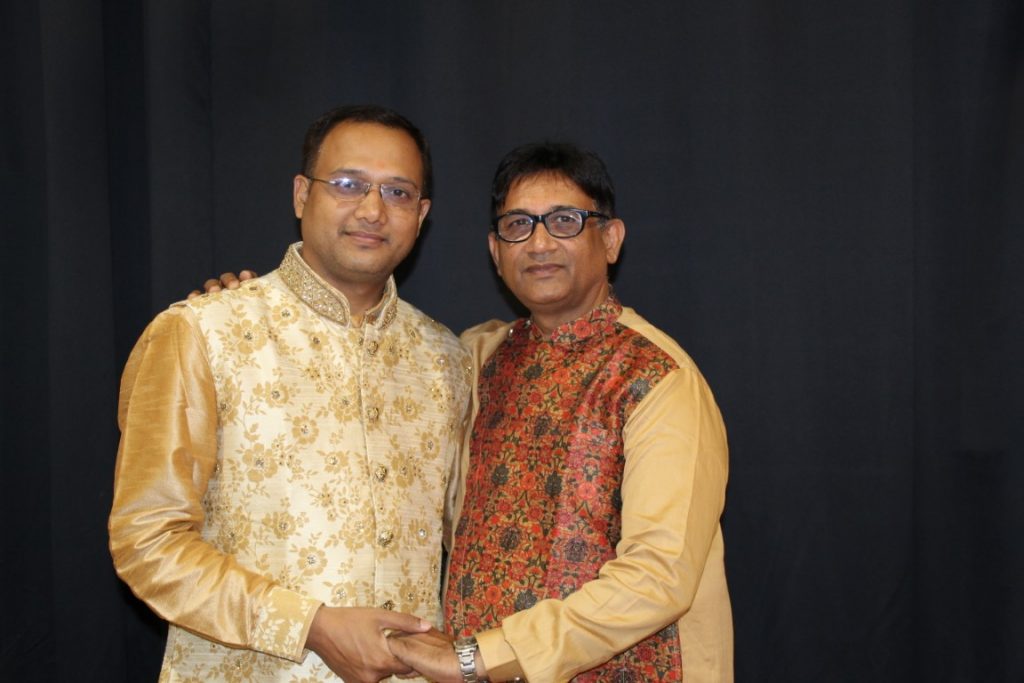 With the blessing of our Bhagwan and Guru Maharaj Sahebs, we were privileged to have very learned and knowledgeable Shravaks – Hiteshbhai Doshi and Vijaybhai Doshi from Mumbai to share their wisdom and knowledge and enabling us to move closer towards the righteous path.
A wonderful start each day before the morning pravachan's – Pakshal, Pooja, Arti , Mangal Divo , Asta Prakari Pooja & Chaitavandan followed by procession of the Ashta Mangal and Stapna of Gautam Swami by the labarthi's parivars which everyone felt privileged to take part in.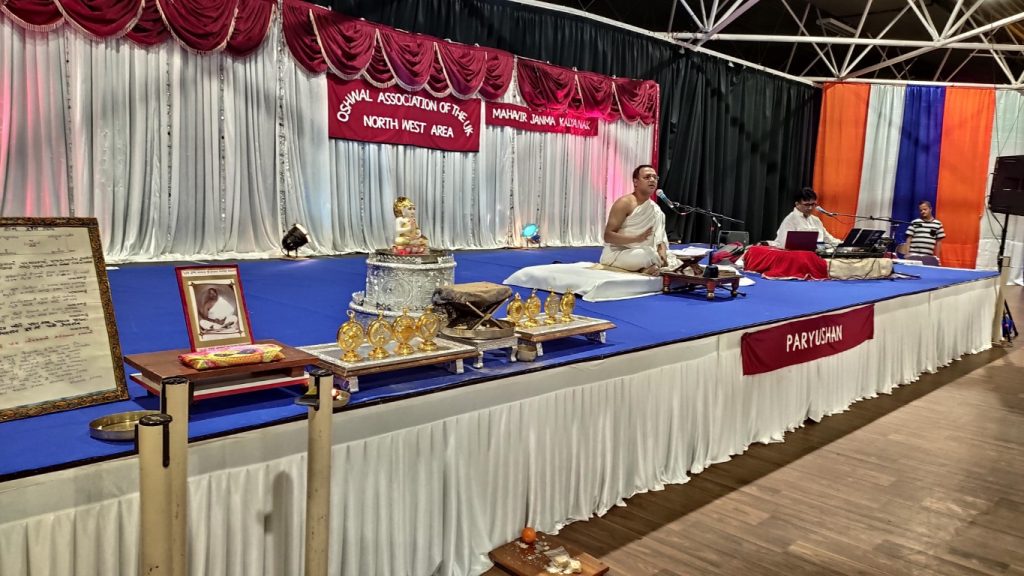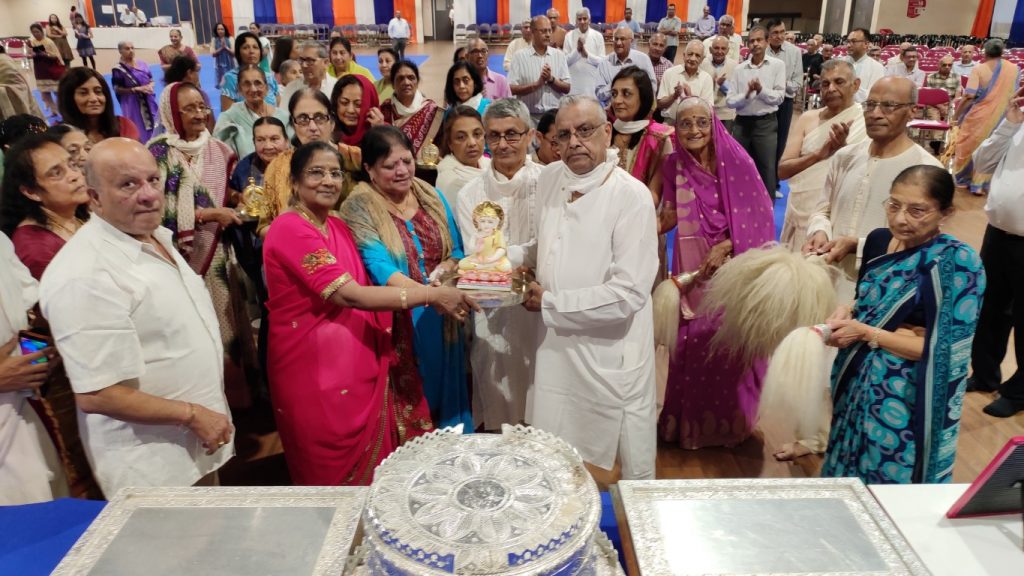 Our Religious Team successfully managed the morning Pakshal, Pooja, Arti, Mangal Divo , Chaityavandan with 200+ people taking part over the eight days.
The excellent morning and evening discourses were delivered by Hiteshbhai with a wonderful linkage of very appropriate stavans by Vijaybhai and his extra ordinary multi instrument music. Hiteshbhai's disourses were in a very simple and easy to understand plus making it interesting and interactive. The evening sessions on all eight days were filled with sweet melodious bhakti with raas garba.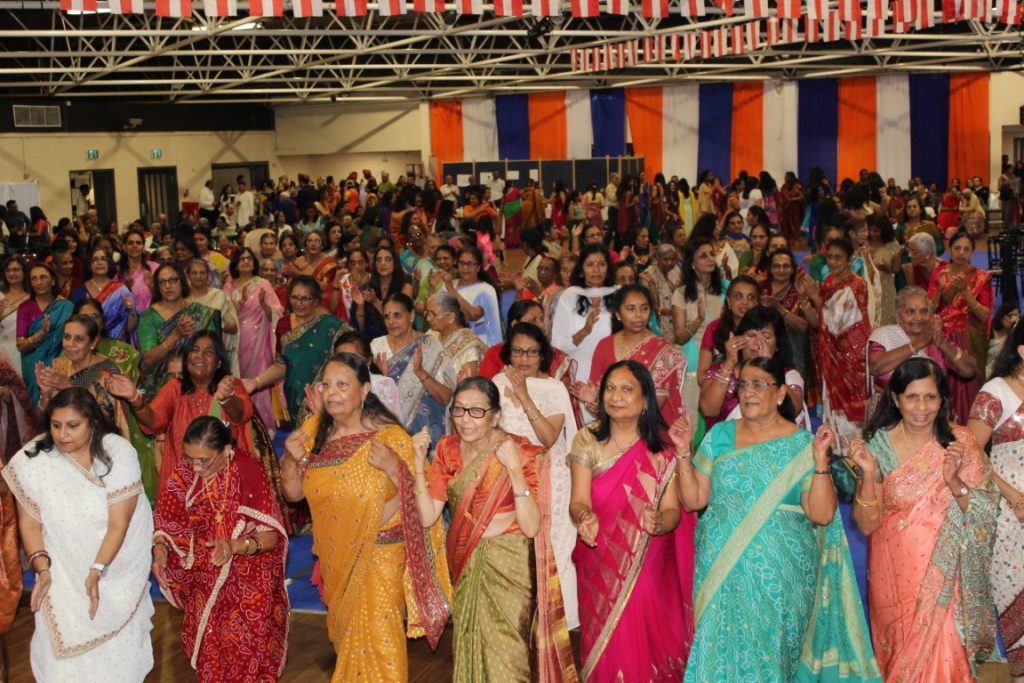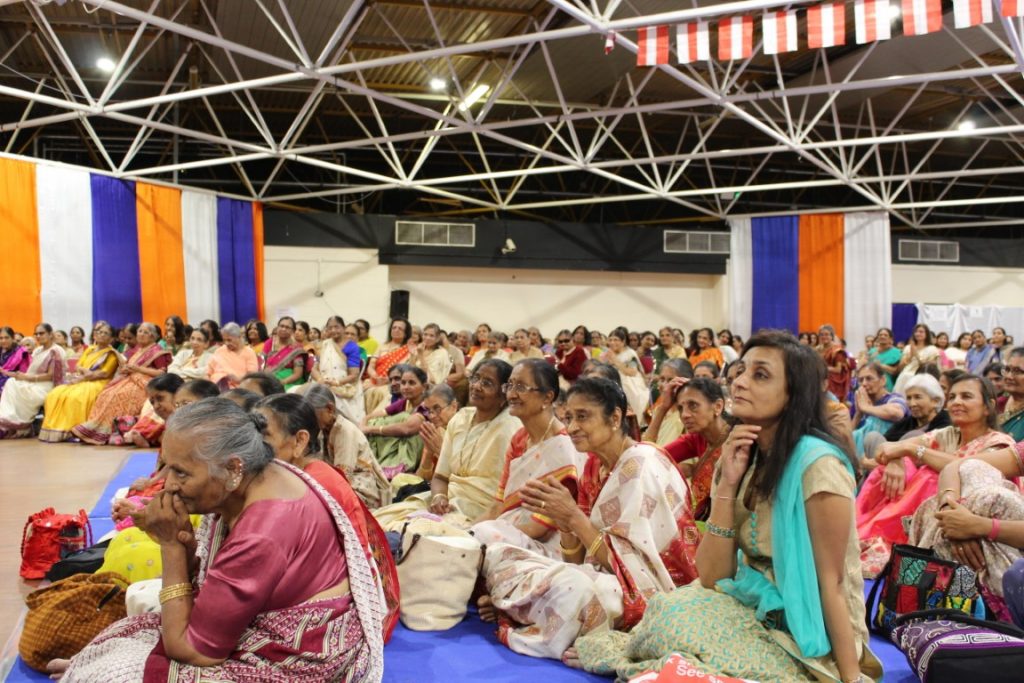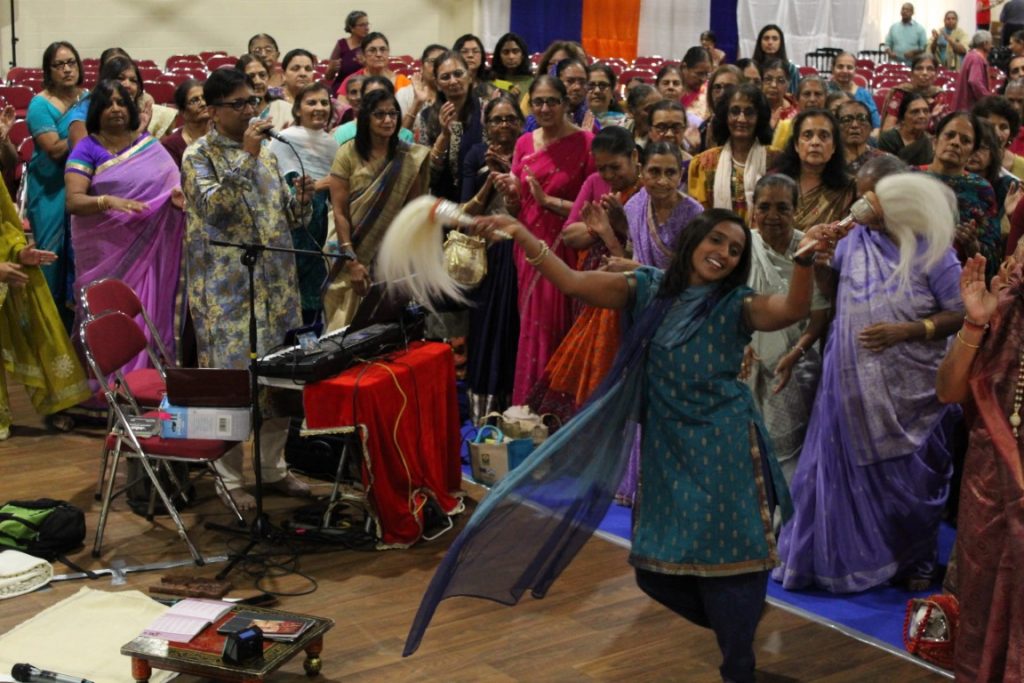 We had over 250+ people attending the morning session and 500+ for Pratikraman in the evening. Pratikraman. As always our local shravaks, both young and old very successfully conducted the pratikraman  for all  eight days. This year we had on record a youngest child i.e. Parasbhai's son – Priyan who recited a number of sutras with amazing voice and clarity –  Khub khub anumodna.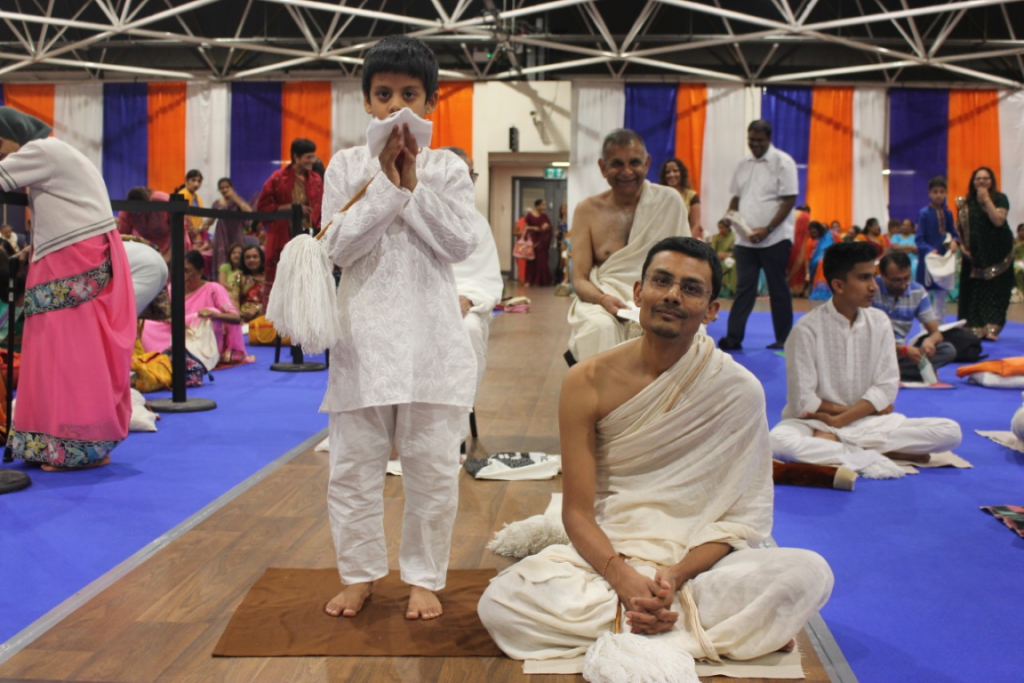 Vardhmaan Sakrastva Abhishek  : This year also we had Sakrastva Abhishek  led by Hiteshbhai  and it was wonderful to have 11 families taking part in this auspicious ceremony performed on the beautiful Bhagwan Shantinath Bhagwaan's pratima. It was a very auspicious occasion which  was enjoyed by everyone present.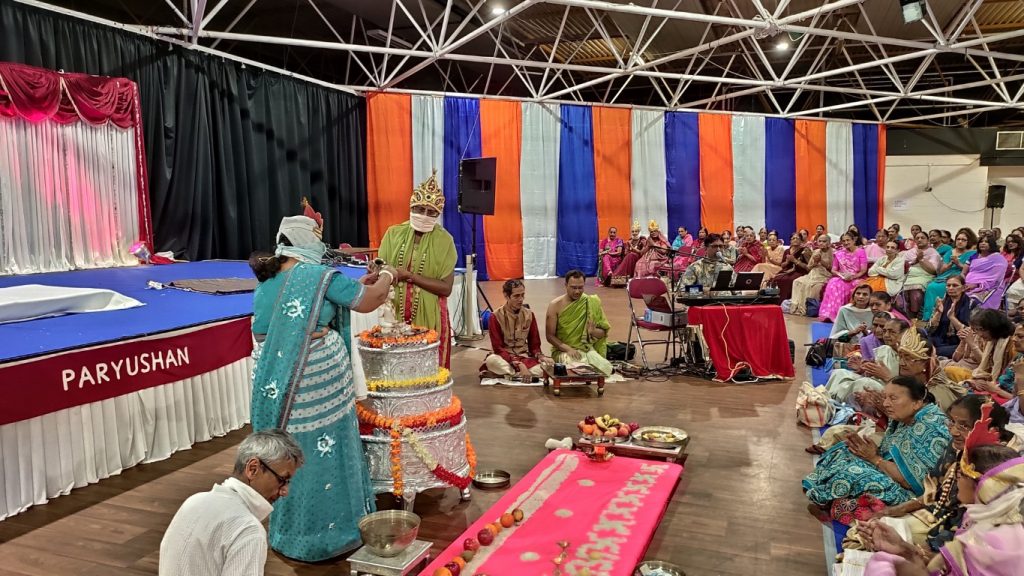 Mahavir Janma Kalyanak was celebrated with great splendour and a great procession of the Swapna Darsan by the labarthi's parivaars followed by the Parnu Julavanu.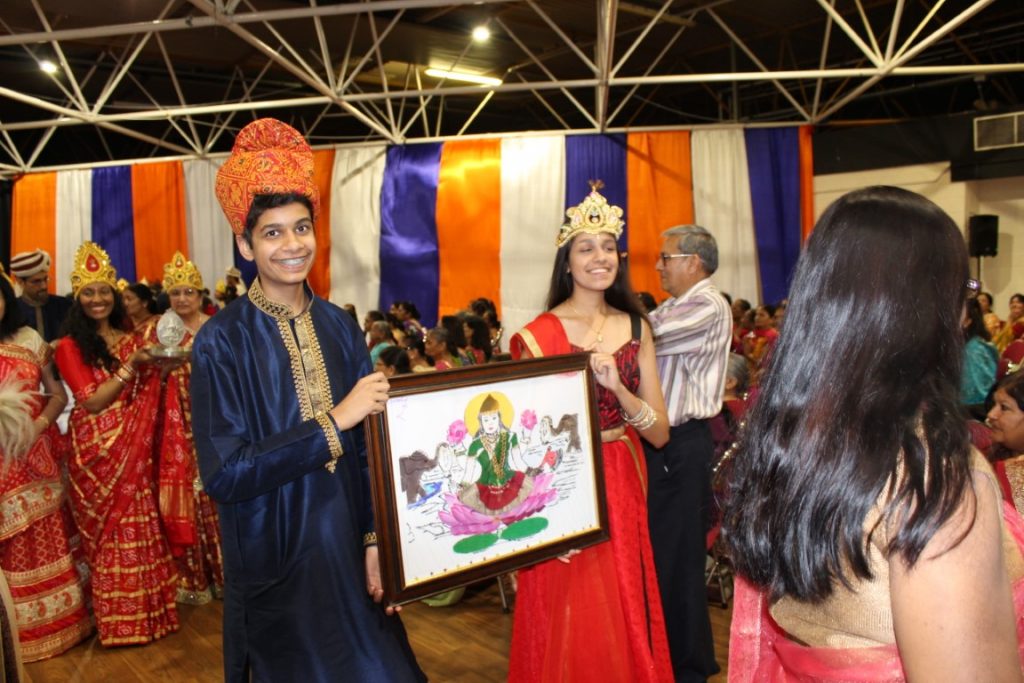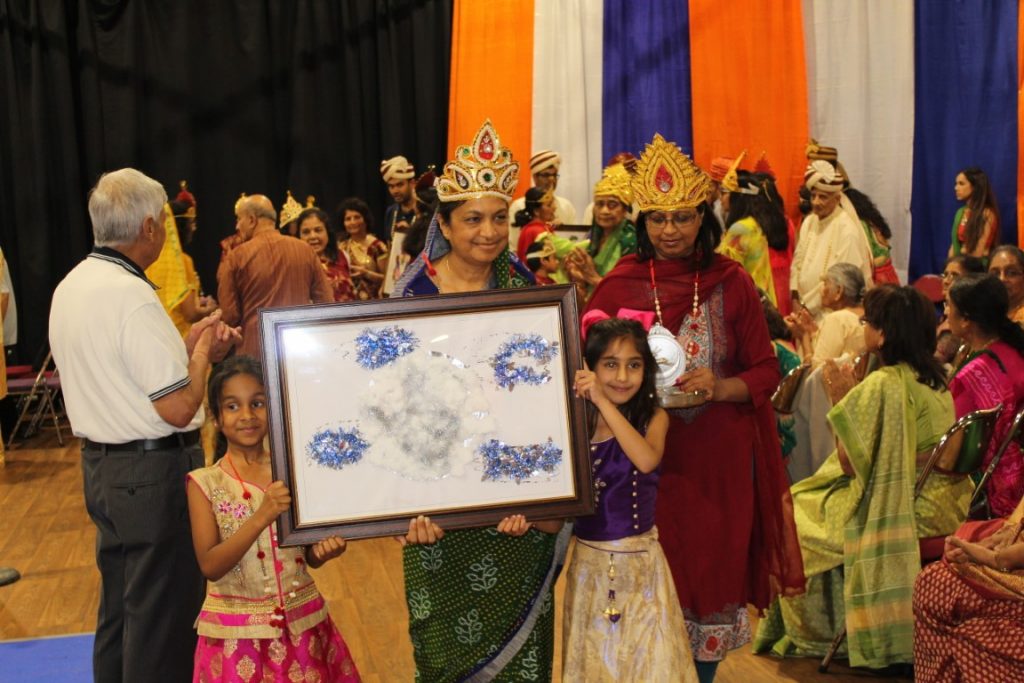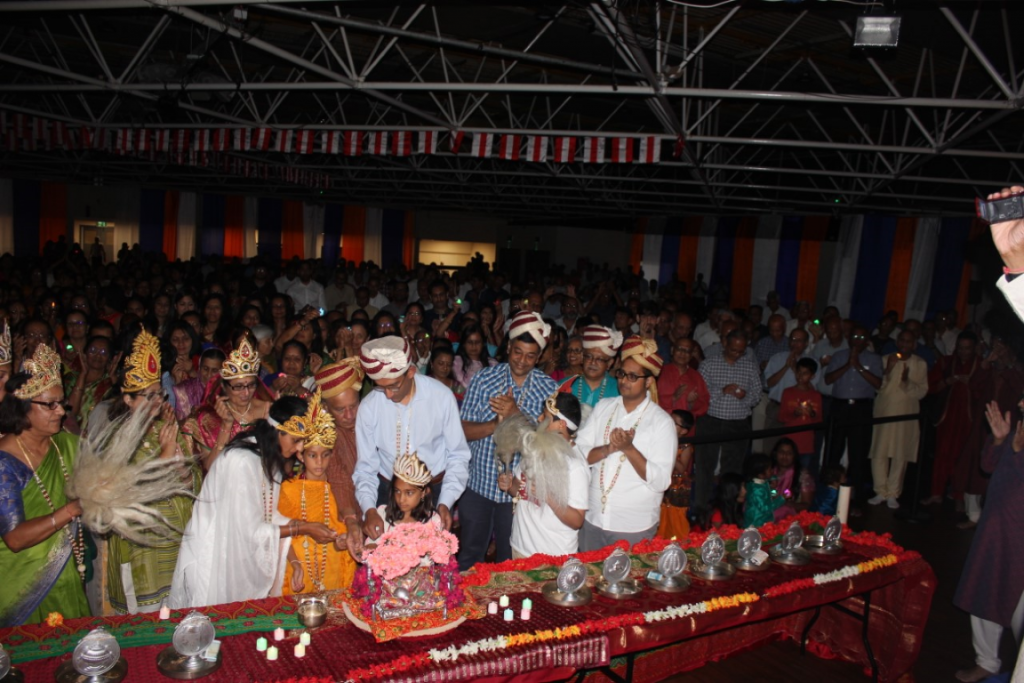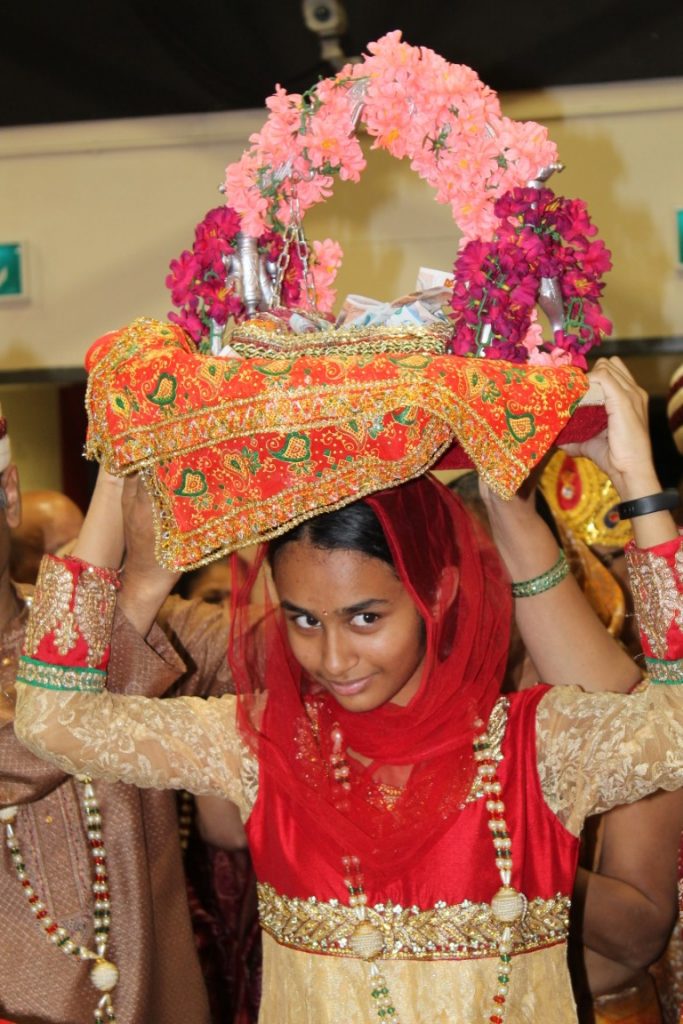 Tapasvi Bahumaan – Fasting of any sort for these eight days can be very challenging and it was an honour for us to have 20+ Tapasvis who had observed this fast. Bahumaan was done by the NW Area Sangh.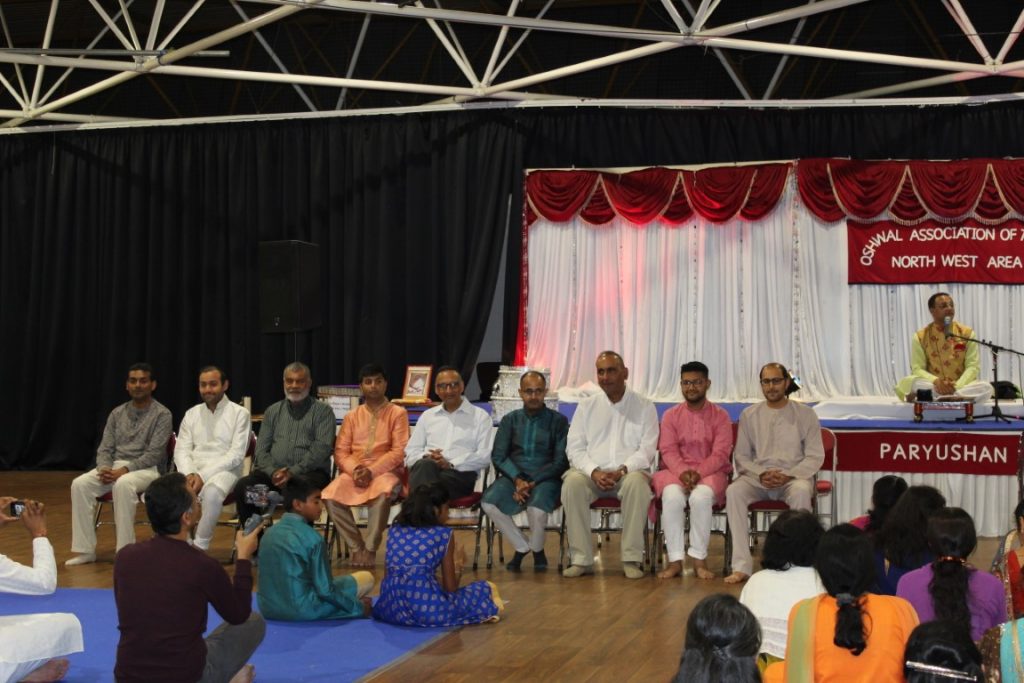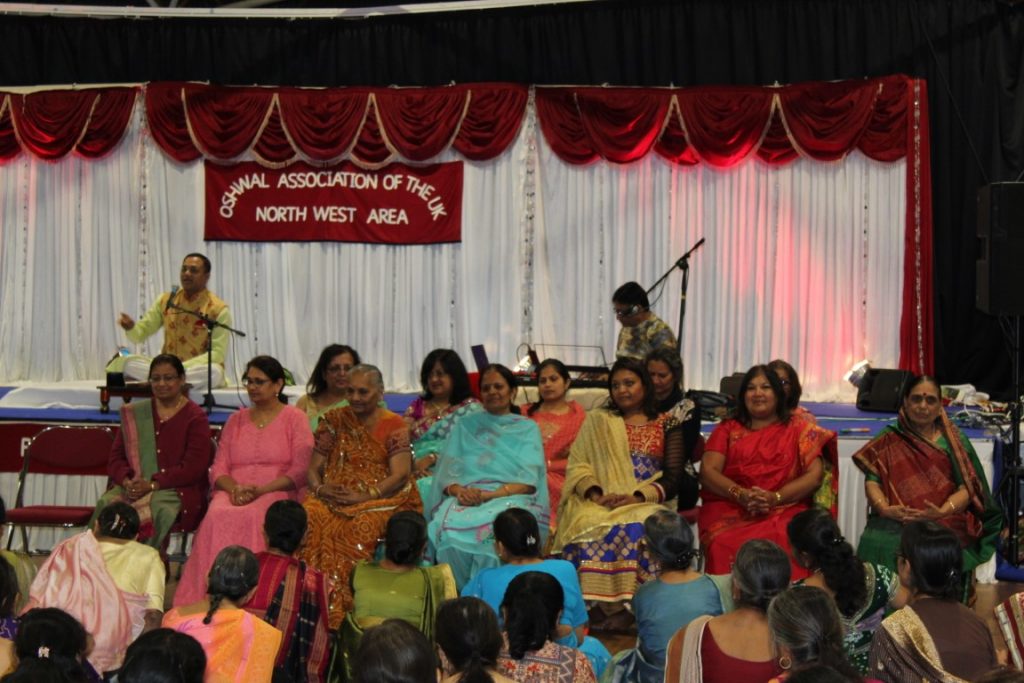 Barsa Sutra Darsan on the morning of last day shown on the screen and labarthi parivar potrayed the barsa sutra pictures for the sangh to do darsan. Everyone joined in the stuti singing.
Kumarpaal Maharaj Shobha Yatra was on the final evening of Paryushan and the great turnout made the atmosphere a great finale. The procession by both parivar was led with full garba and dandia to the derasar. This year the whole audience took part in the arti and Mangal divo with coloured tea lights – a great atomosphere to see.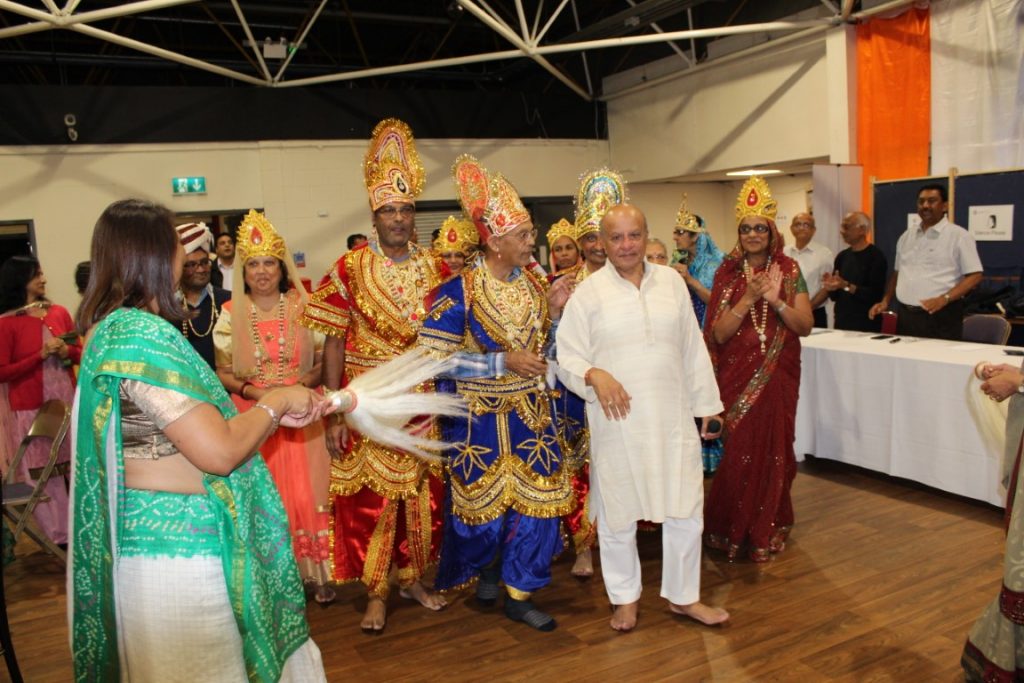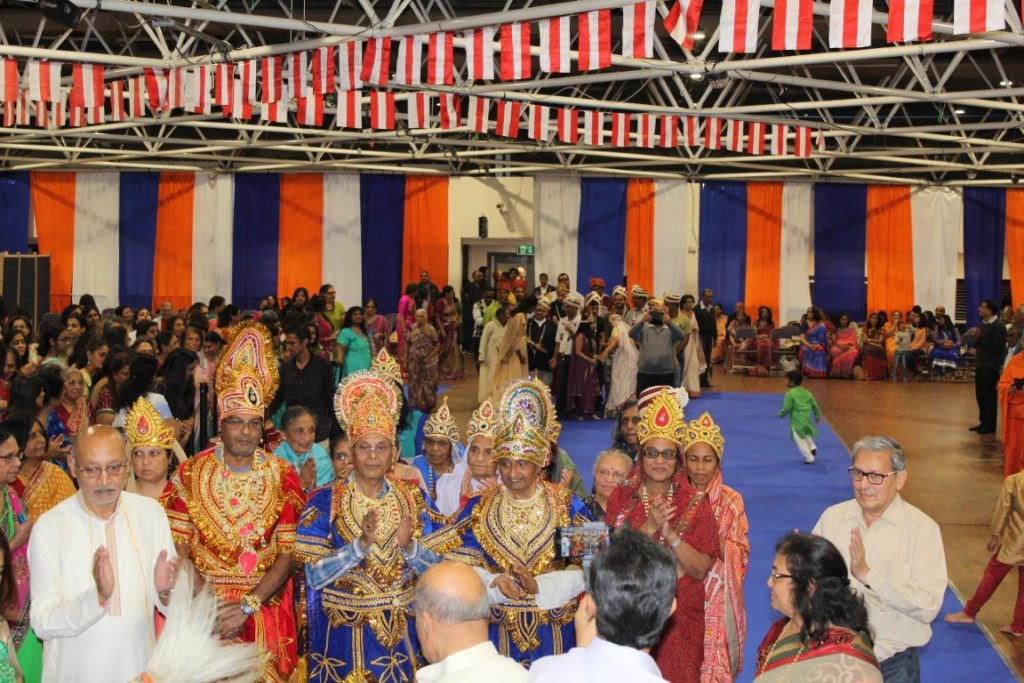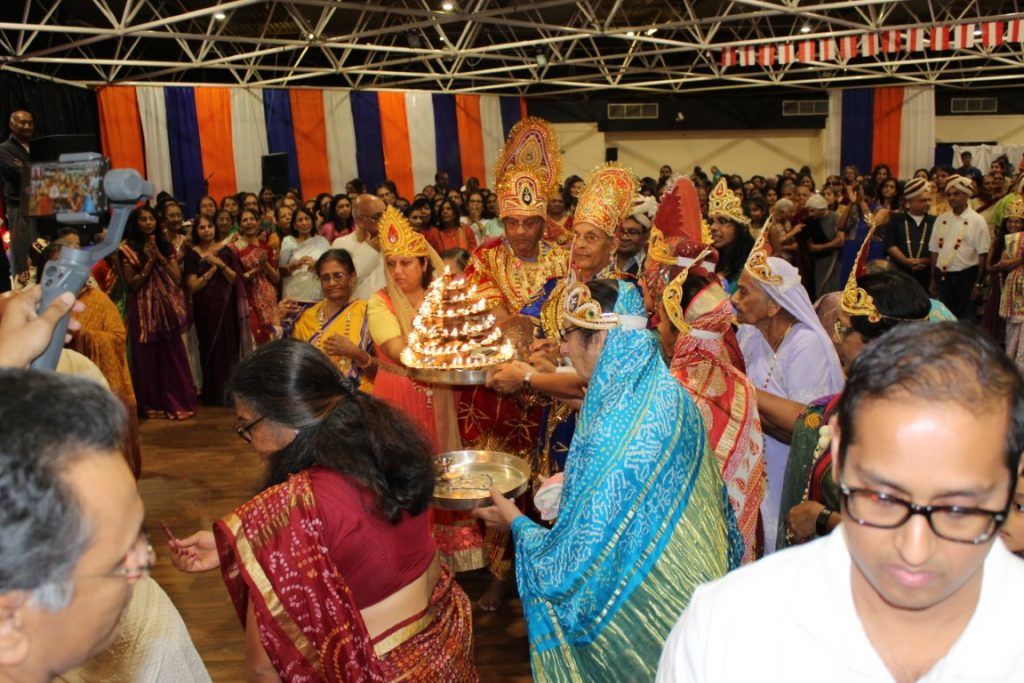 Paryushan for kids : NW OAUK invited SCVP Jain School (Veerayatan UK) again this year  to deliver Paryushan4Kidz after very successful previous years. Over 80 children took part in the workshop which was organised in such that it was an interesting way to learn about Jainism. This was thoroughly enjoyed by the children. A great effort by the SCVP team and volunteers and our appreciation goes to everyone including the parents for bringing the children to the event.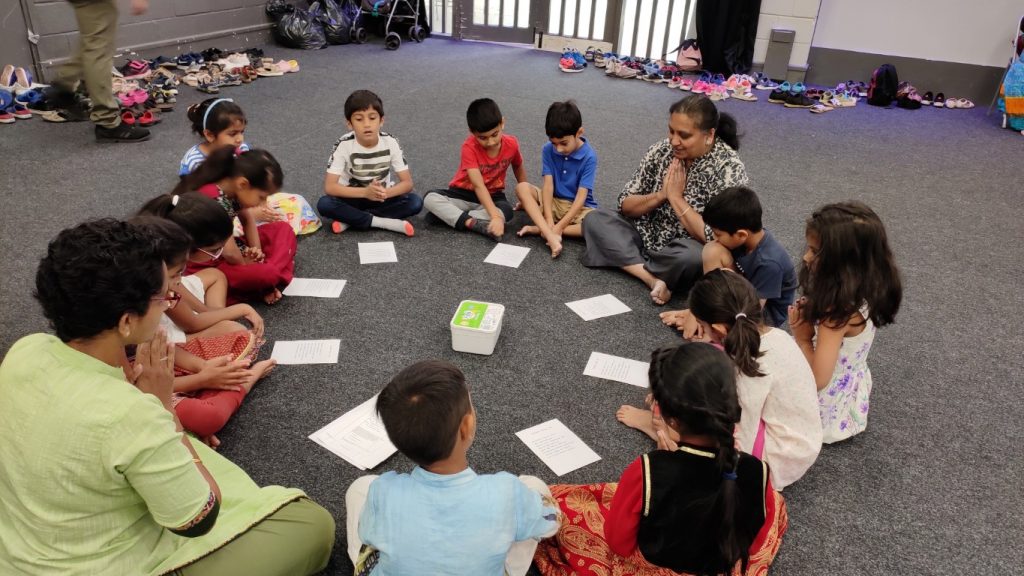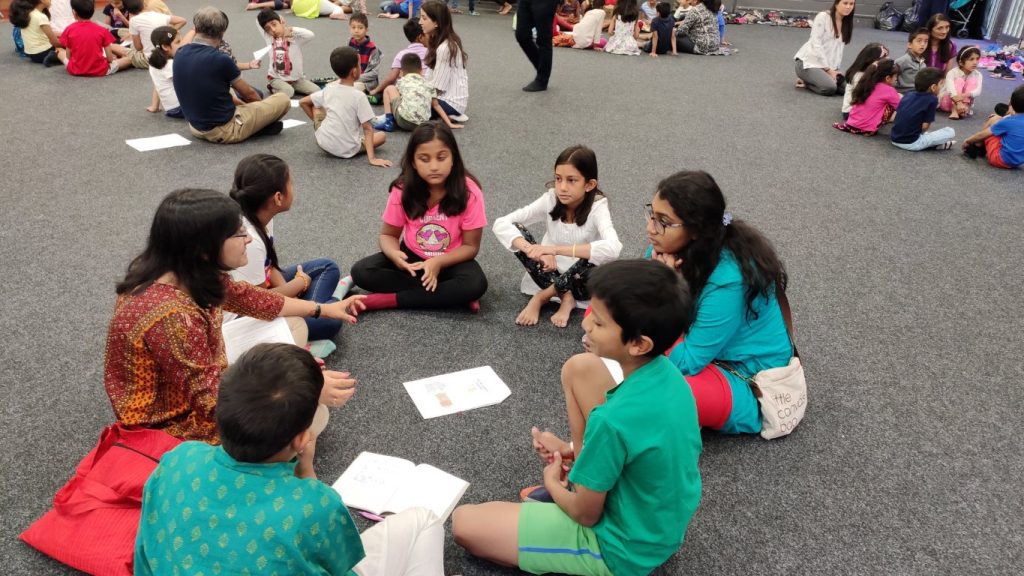 Pratikraman in English : After a great success in 2017& 2018, NW OAUK made the decision to again have English Pratikraman for all 8 days of Paryushan. This again proved to be a great success with very good attendance averaging 200 with final day being 300+ and lots of positive feedback received from the attendees. This additional Pratikraman each day allowed not only the young but the older generation a chance to learn about the essence of this wonderful dharma and ritual we take part in. Ultimate aim of having the English Pratikraman is to ensure the next generation and beyond continue the ritual as did our forefathers but at the same time understanding the meaning. A very big thank you to SCVP for its sterling efforts again this year.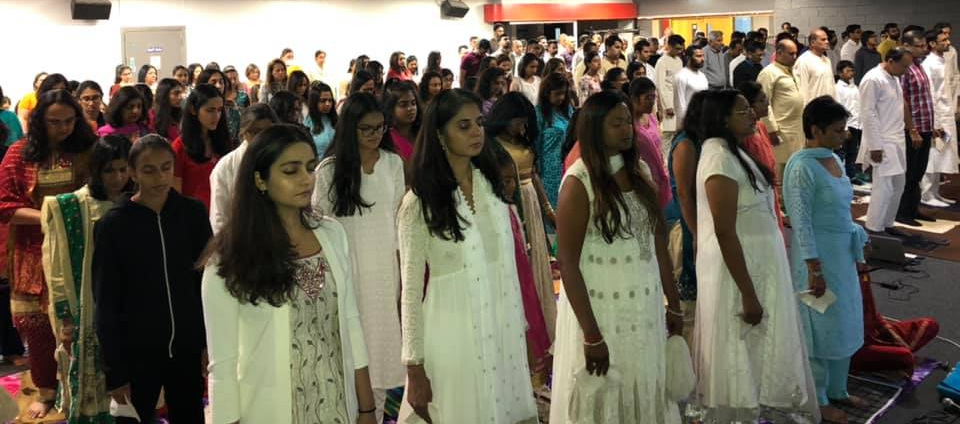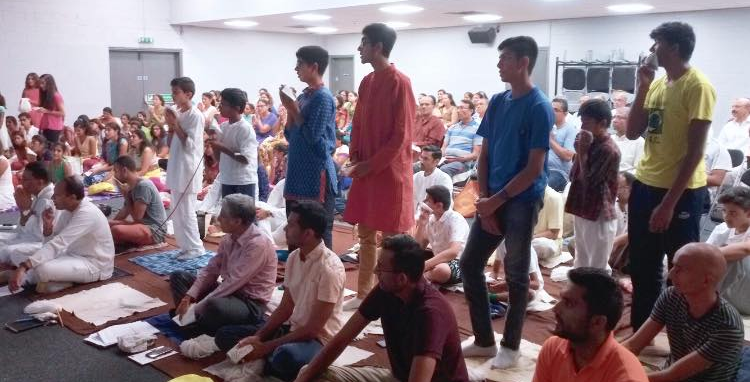 Our heartfelt gratitude goes to our fantastic team of volunteers, North West Area Committee, sub-committee, Hiteshbhai Doshi & Vijaybhai Doshi, SCVP Team  and our members for their tremendous participation in making our religious events very spiritually uplifting.
Micchami Dukkadam
Jayubhai Visaria (Religious Chair ) – North West Committee