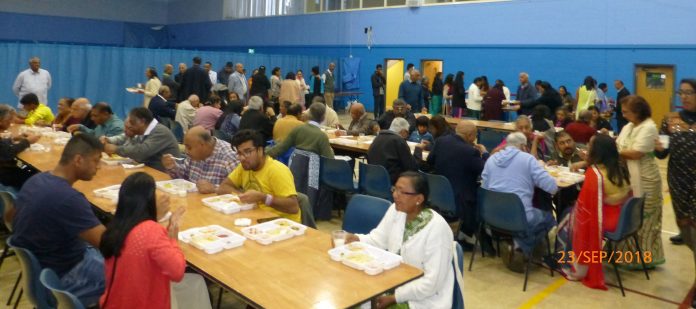 With the cancellation of the Swamivatsalya Bhojan and Dhaja Din at Oshwal Centre on 23rd September 2018, which was unavoidable, Northampton area decided to hold the Swamivatsalya Bhojan for our area.   In spite of having just 3 days to organise it went very well with about 140 members attending.
The event began with bhajans by Jivrajbhai, Mahendrabhai, Jyotsnaben, and Chiragbhai. The bhajan session was ended with Shanti by Kundanben. The menu was barfichurmo, choora shaak, puri, dhokri, daal, and bhaat, an assortment of chutneys and pickles and chaas. After the meal our talents local singers entertained all with bhajan and songs as per members' requests.
Our special thanks to Hansaben and all the volunteers who came in before 7am on the day to help with the food preparations. Big thank you to all fellow members who helped during this event.
For more photos please, click here.