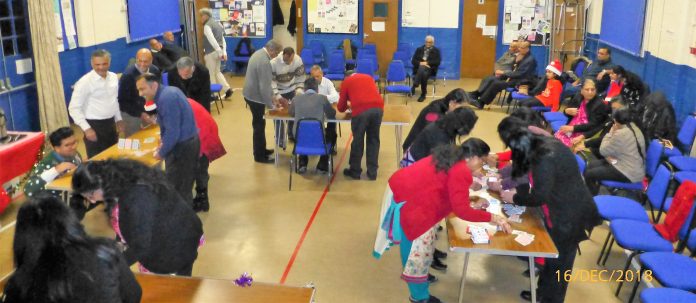 The feeling of Christmas was very much present at the Northamptonshire annual Christmas party held on Saturday 15th December 2018. Most members were in festive clothing with Christmas songs playing in the background and even a small Christmas tree was put up. The event was well attended with about 50 members attending.
The evening was jammed pack with various fun and exciting games and activities. We started off by warming up to some exercises which led way to musical chairs. Everyone joined in with the youngest being 5 year old Shreyan to the oldest our 90 year old Baa!! The ever popular Pooing the Potato game followed and some very bruised and battered potatoes at the end of the game.
Light refreshments comprising of sev khaman dhokra, moong daal kachori, green chutney, tamarind sauce, sandwiches (for the kids), tortilla crisps, veg sticks with various dips and peanuts were served.
Shreyan, Devina and Tishna kept the guests entertained some magic tricks and quiz. Devina, very bravely, led the audience to recite 'On the first day of Christmas' song. Stacking playing cards to form the tallest structure proved to be challenging and frustrating game that followed with no team being able to have a structure in place at the end of the 15 minutes they were given.
Before the end of the evening cake, tea and coffee were served.
Finally, the committee would like to thank all the volunteers who helped to set up the event and clean up afterwards. A big thank you and well done to all Shreyan, Devina and Tishna for all the effort they had put in – everyone thoroughly enjoyed your show.
---
To see more pictures, click here.
Back to Northampton page.
By Mona Rupen Shah