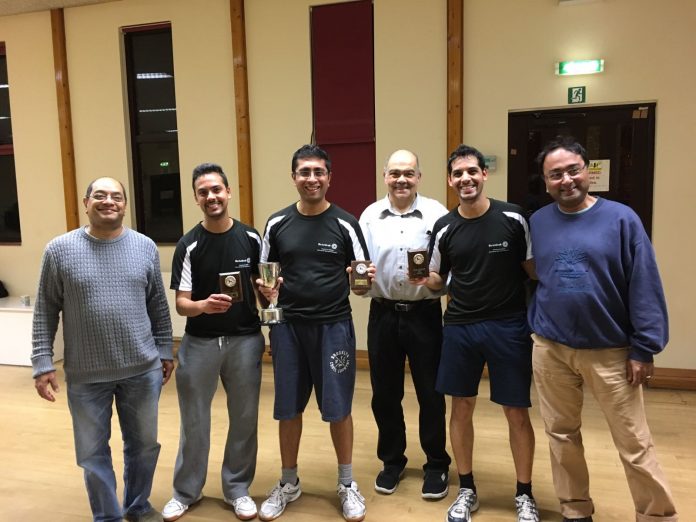 Table tennis is the most popular racquet sport in the world and ranked second overall in terms of participation. Table tennis was invented in the late 1880s when the makers tried to emulate the popularity of lawn tennis by developing indoor version of it. A game that is applicable to all ages, a modern table tennis match at the elite level lasts on the average about 30 minutes. Top players often smash the ball at speeds exceeding 160 km per hour (100 miles per hour).
Over the last year, Oshwal Northwest Team A managed to successfully win the Elvin Junior Table Tennis Cup in a tantalising final match that went the full distance with a 5-4 win over the division 3 champions Maccabi D.
The team included Darshan Shah (Captain), Miren Shah, Khushil Shah, Anuj Shah and Savan Shah. The team have developed a good bond over the last few years and their teamwork has helped them attain the success in the Harrow and Wembley table tennis league and winning the Elvin Junior Cup.
The cup format is a knockout stage as the Oshwal team went through 3 Group rounds including 2 very tight games, and then reaching and winning the semi-final and eventually attaining the cup in the final round. The games format includes 6 singles and 3 double matches in an exciting format. Tactical skills are essential in choosing the right team set up in getting the best pairings.  As most of the games were very tough, the attacking style displayed by the Oshwal team got them through with their top spins, variations in serves and looping and counter looping to return the ball in the opponents side and win the point.
Congratulations to the Oshwal Northwest table tennis team for winning the cup. We also encourage anyone who is interested in joining the club whether it is just for fun, pass time, exercise, and training, please feel free to contact us.