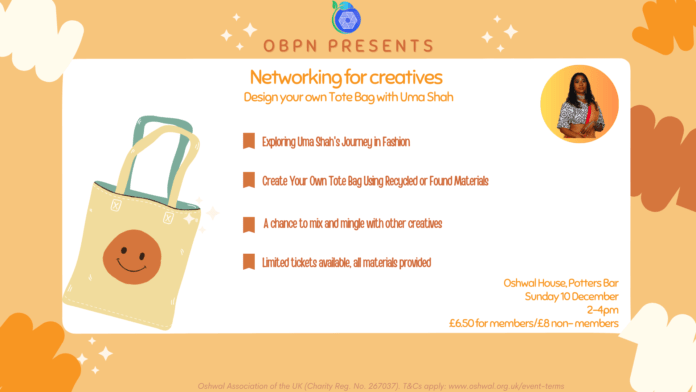 OBPN Networking for Creatives – Design your own Tote Bag
A unique opportunity to be inspired, meet new people and get creative! OBPN is proud to invite you to this workshop, targeted at those with an interest in the creative industry. We are privileged to have Uma Shah host this session.
Uma is a London-based fashion designer and fashion stylist who graduated in Fashion and Textiles from Loughborough University. She has worked in print design for Amanda Kelly, production design for a short film called Stained Plates, as a co-designer and consultant for the V&A Africa Fashion exhibition and as a studio coordinator and stylist for River Island. Alongside her full-time job in shoot production at New Look she is the founder of a streetwear brand, Askari.
The afternoon will start with Uma sharing her experiences and journey into the fashion industry followed by some hands-on action giving you the opportunity to design your own tote bags, wholly from locally sourced materials. All materials will be provided but please also feel free to bring anything you wish to repurpose/upcycle!
The event will be hosted at Oshwal House on Sunday 10 December starting at 2 pm, expected to finish at 4 pm. Tickets for members are £6.50 and £8 for non-members.