On 7th October, 30 Oshwal trekkers landed in the world's most dangerous airport, Lukla – Nepal, to start their adventure of a lifetime. The 2 weeks spent trekking to Everest Base Camp and Gokyo Ri have left memories of vibrant colours, warm hospitality, tasty hot meals and stunning scenery and most of all we have gained new friends. The group worked hard to raise a fantastic c£30,000 which will help rebuild an entire school, Basnet Gaun School, which is located in Benighat Rorang Guapalika in the Dhadhing region of Nepal. The school was badly damaged during the April 2015 earthquake which has meant urgent repairs were required for the safety of the children.
Oshwal Trekkers included:
Ananka Shah, Anish Shah, Ashni Pau, Cheenar Shah, Deep Shah, Dhiren Shah, Dhruv Shah, Geetu Mirpuri, Hema Shah, Jamie Shah, Khush Shah, Kunjal Shah, Malkesh Shah, Mandeep Shah, Mihir Shah, Miraj Shah, Nikhil Patel, Pooja Shah, Praful Nanda, Purav Patel, Riddhi Shah, Rishi Shah, Ronak Bid, Rushab Shah, Sahaj Shah, Sameer Bagha, Sanjay Shah, Sita Shah, Sona Shah, Sonak Shah
---
EVEREST BASE CAMP – SAGARMATHA NATIONAL PARK MUSEUM
by Ronak Bid
On the acclimatisation day in Namche Bazaar, we had the opportunity to visit Everest Museum where I learnt about Nepalese culture and Sherpa village Life.
In my account, I will share some of the interest facts I learnt about Everest during the trip.
Lukla Airport
Lukla airport was built in 1964 to facilitate the construction of the hospital in Khunde. In 2000, over 16,000 passengers have flew in and out of Lukla and numerous hotel and specialised services have been developed to serve them.
Lukla airport has been named as the world's most dangerous airport due to the runway of the airport being on a hill with a wall of mountains at one end and the other end, where the planes take off, ending with a sharp drop of 9,000 feet.
Miyolangsangma
Miyolangsangma is the Tibetan Buddhist goddess who lives on Mt Everest. Miyolangsangma is one of the five long life sisters and the virtue is inexhaustible giving for the people of the Khumbu area. She started as a demoness and was converted by a great Buddhist. She rides a golden tigress and hands out jewels of wishes to those deserving.
Many climbers of Mt Everest beseech her favour at the traditional stupa (temple) in which a Buddhist monk prays for them and they go through certain ceremonies.
It is said that Tenzing Norgay followed her up Mt Everest and that she allowed him to be the first to summit along with Sir Edmund Hillary.
Tenzing Norgay
On May 29 1953 Tenzing Norgay and Sir Edmund Hillary became the first to reach the summit of Mt Everest (29,028 ft)
Flora and Fauna
Forest and woody plants are used by the local people for 3 major purposes. These are:
1. Fuel-wood for cooking and heating.
2. Litter or humus for mixing with animal/human manure and using as a soil fertiliser.
3. Timber for buildings and bridges.
Re-establishing plants is very difficult once vegetation is removed.
The photos show juniper and shrub rhododendron harvested as fuel wood above 4,500 metres.
Wild Yaks range between 14,000 feet and 20,000 feet and they rarely descend below this level even in winter. Their variety of colours distinguishes them from the scarce wild species.
Domesticated yaks are very important in the life of people living in the high Himalayas. They carry loads, pull pillows, give milk, and furnish meat, hair and hides. When bred with the low the "dzoom" hybrid is a hardy milk producer.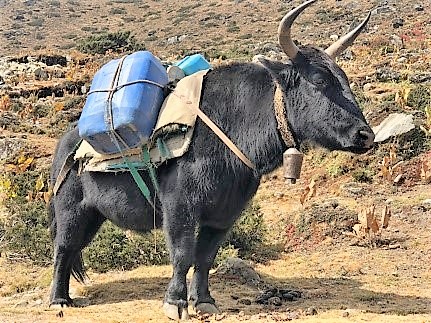 Mountain ranges
The Himalayas are still being uplifted at an estimated rate of 1 metre every 10 years. The actions of glaciers, wind and water are slowly wearing the mountains down and transporting them to the sea.
Alpine zone
The alpine ecosystem in the upper Imja Valley of Sagarmathat National Park and buffer zone is very diverse and provides excellent habitats for some of the world's most exotic plants and animals.
Much of the alpine zone is black and windswept. Only the hardest of grasses, masses and other plants can survive.
Among the most rare is a medicinal plant called the Snow Lotus or Blue Poppy which is used to treat high blood pressure. The snow leopards are very rare. The high altitude areas around Everest are important for Yak grazing. The alpine zone is very vulnerable to Human abuse by over-grazing and over-harvesting of medical plants as well climate change.
Rhododendrons
Sagarmatha National Park hosts many species of rhododendrons, one being Nepal's national flower (pictured) which is found throughout the forest all the way up to Tengboche Monestary. It flowers in various shades of red, pink and white which are frequently seen.
On the colder north-facing slopes of the subalpine forest, in association with silver birch grow some dwarf species of rhododendron which form part of the shrub layer of the forest. It occurs in various forms and sub species tolerating a wide range of altitude up to about 4,500 metres.
---
PHOTO COMPETITION
We held a friendly photography competition between all the trekkers as a bit of fun (all photos were taken on mobile phones). The 3 categories were judged by Niraj Sanghvi who is an events photographer, you can see some of his previous work here: http://www.capturethesoul.co.uk/blog .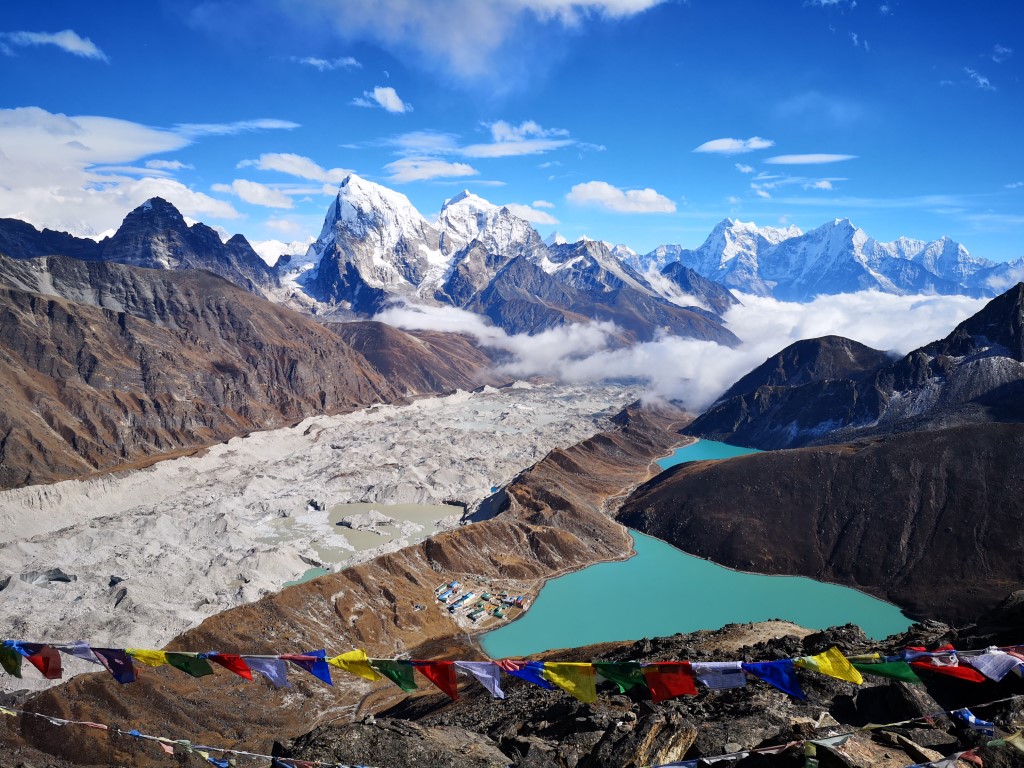 1. Landscape : Sonak Shah
Why: Good use of rule of thirds and there is depth in the photo as your eye follows a "zig zag" starting from the prayer flags through to the valley.
---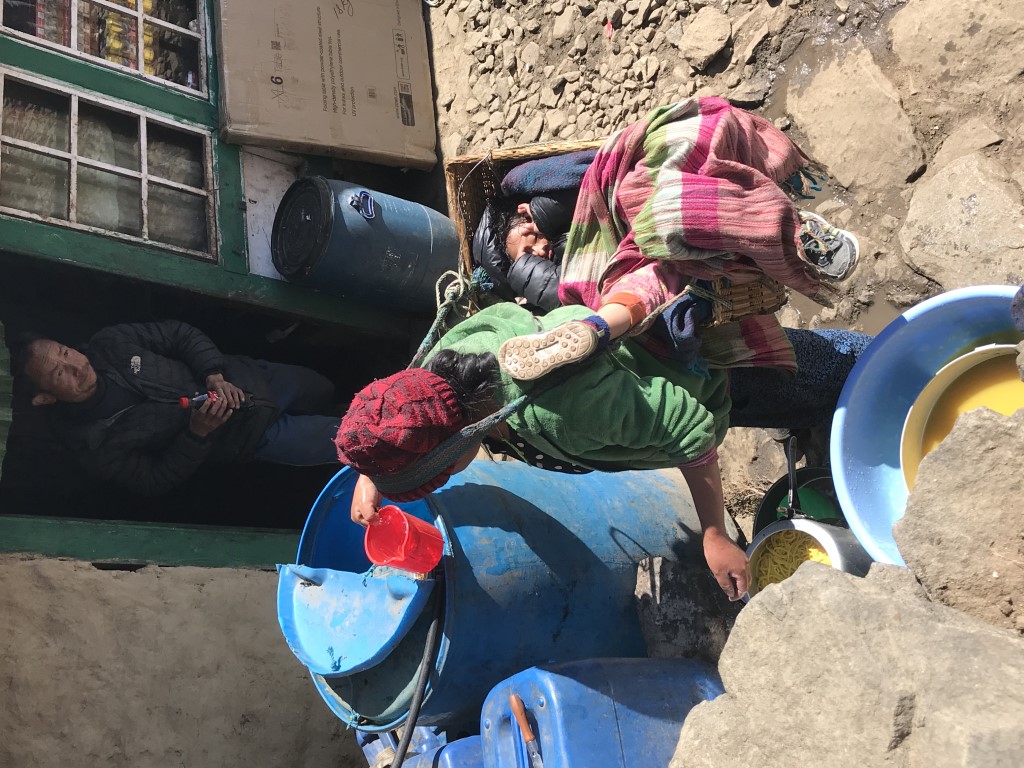 2. Culture – Praful Nanda
Why: the image tells a detailed story of how the locals live and work. The creative perspective of shooting from above adds to the interest and includes a a sneaky peak from the child being carried.
---
3. Creative – Two winners selected.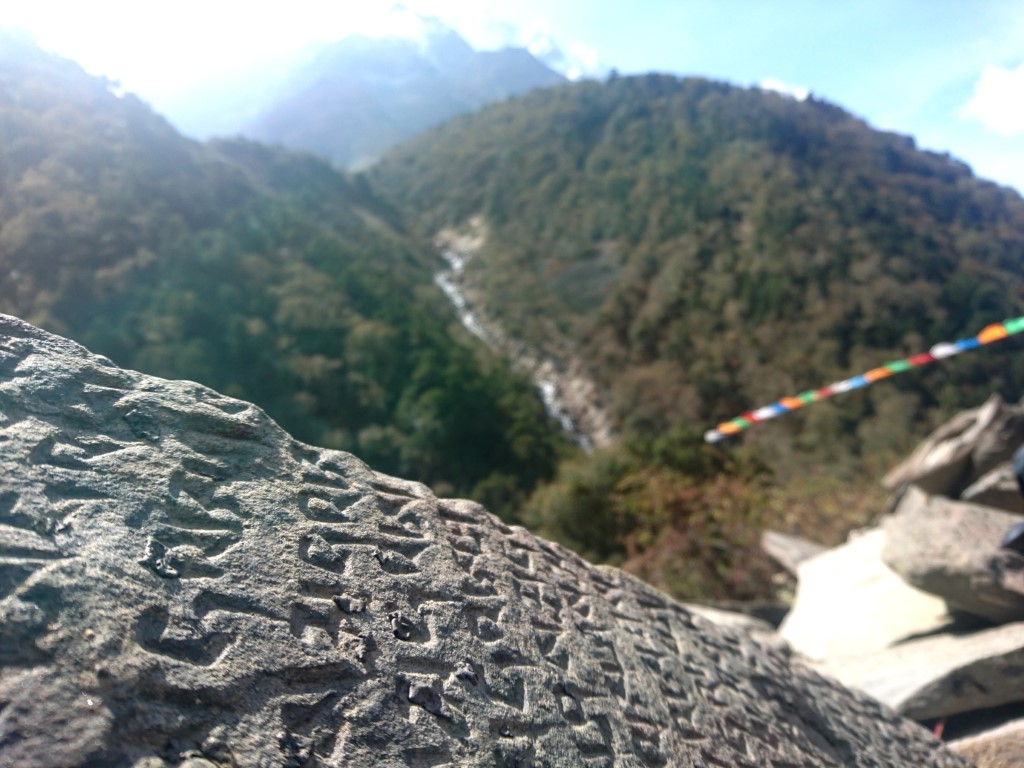 Creative (judging on creativity) – Anish Shah
Why: Creative composition – highlighting the detail in the the carved lettering on the stone; while the flag line leads us into the scene from the right, directing us to the river and snow-capped peaks in the distant background.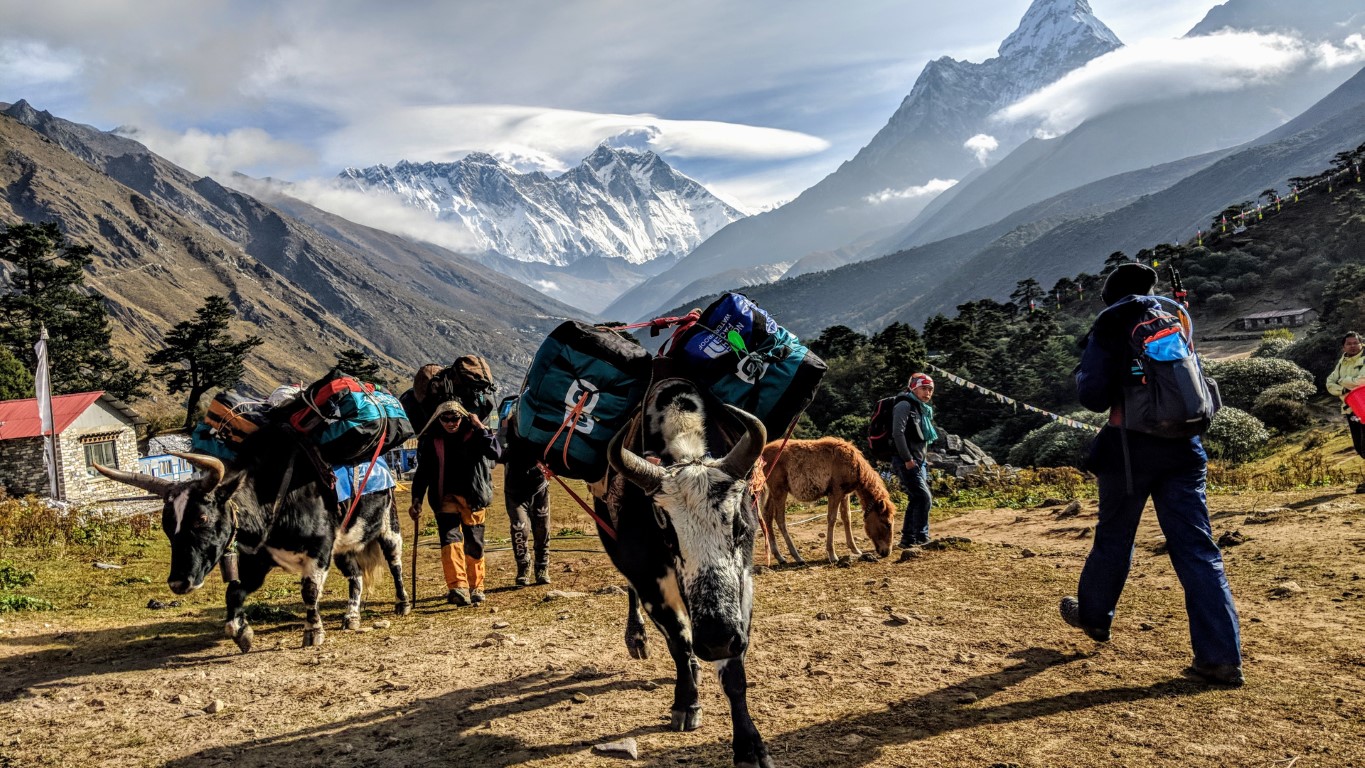 Creative (judging on overall image) – Sita Shah
Why: a perspective from the ground, with the close proximity to the yak(?), and sherpas behind, emphasising the important role they play in many climber's expeditions. This combined with a clear view of the snow-capped peaks behind make it quintessentially Himalayan.