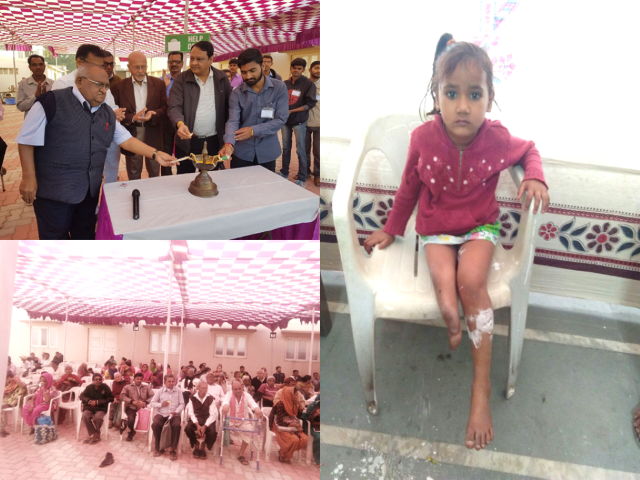 TUESDAY 26th DECEMBER 2017 – PRE-SCREENING STARTED AT JAMNAGAR OSHWAL MEDICAL CAMP
Volunteers briefing with Medical team from Ratna Nidhi Trust (our partners in the Oshwal Medical Camp) for smooth operations of camp beginning at 8:00 AM
Deep Pragtaya Ceremony took place at 9:00 AM
Press and Media Team briefing took place at 9:15 am for Pre Screening camp program and upcoming Oshwal Medical Camp Feb 9th to 16th Feb 2017.
Patients started arriving and registering from 9:30 AM.
All Patients have been treated with great courtesy by our volunteers and medical team and entire first day operations was smoothly operated with zero complains.
Required Wheelchairs facility for critical disable patients comfort (for Only Camp movement Purpose) have been also provided.
Across the day Hot Tea/ Coffee have been served to all patients, volunteers, medical team etc. Proper Food have been served during lunch time to all waiting patients across comfortable seating area at camp site.
Total no of Patients today With Break ups :-
Calipers:- 54
Jaipur foot :- 41
Hand :- 3
Crutches :- 32
Total :- 130
Audiogram (For hearing Machines) Total 163 patients have been treated with detail audiogram test process
Total Patient treated today: – 293
To see pictures from the day, click here.
To learn more about the Medical Camp, click here.
---
Back to Home page.