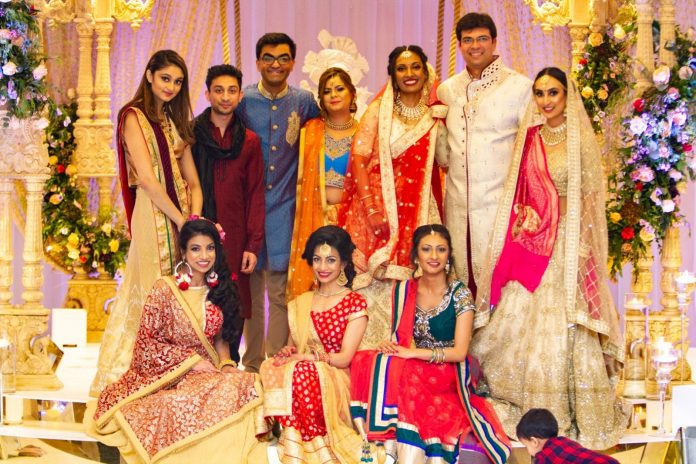 SUNDAY 24 NOVEMBER 2019 – OSHWAL CENTRE – A SPECTACULAR WEDDING AND FASHION SHOW!
The Wedding and Fashion show on Sunday 24 November 2019 was a fantastic and large-scale event held at Oshwal Centre, Potters Bar. It was predominately held for future brides and grooms and their families to get inspiration for their special day. It attracted around 3000 visitors.
Oshwal Centre was unrecognisable as it was completely transformed with spectacular décor adorned across the foyer, the two halls and marquee. The car park sported luxury wedding cars!
The show brought together over 60 exhibitors varying in their professions such as; Fashion Clothing, Catering, Hair / Make-up / Mehndi, Hand-craft designs, Jewellery, Mandap Décor, Music & Entertainment, Photography / Videography, Wedding Cars. They were fused under one roof, to showcase, discuss and demonstrate their wedding products and services. Perfect for the busy couples and their families.
The event programmes ran smoothly under the conduct of two toastmasters. It opened with divo lighting by the Office Bearers followed by a child's performance. Makeup artists gave a live hair and makeup demonstration. There was a wedding humdrum amongst the visitors, exhibitors and volunteers! This was definitely visible upstairs with the four to five deep rows along the catwalk to behold the exquisite fashion show collection and the captivating dance shows. These were organised and performed by young talented volunteers alongside the committed and creative organisers.
Downstairs uniquely featured a beautiful mandvo which completely changed the way the hall looked. This was surrounded by busy stalls, some offering samples of unusual gola flavours, Mexican fusion tasters, South Indian bites and mouth fresheners (paan). Oshwal's catering team dished up delicious food. An adjoining marquee too housed a stunning mandvo and luxurious table decorations.
Well done and many thanks to all those who organised and participated in this amazing show. This includes the relentless organising committee, dedicated 150 volunteers, enthusiastic exhibitors – including the sponsors, the toastmasters and visitors.
We have received an overwhelming number of positive feedback from the exhibitors, many of whom have asked when the next event will be. In addition, the participants shared their experience. Here is their feedback:
Just wanted to say a huge thank you for organising this whole event and investing so much of their time and efforts to make sure this Wedding Show is a huge success. As a participant, I was looking forward to all the meetings held and practice sessions as we got to meet lovely people, have fun and enjoy the chai and biscuits. Meera and I also worked together closely as we choreographed the routine. Also, a big thank you to the clothes sponsor as we all looked absolutely beautiful on the day. I would also recommend Damyanti Chotalia for doing our hair and makeup and transforming us to gorgeous ladies.
Finally, I made a lot of friends through this event and look forward to keeping in touch with them all. Thank you to everyone! Loads of Love and Best Wishes.
~ Nishi Shah, dance choreographer
---
I always wanted to be part of an Indian fashion show so took to courage to volunteer despite my siblings and friends not joining me. Having signed up for a fashion show and dance performance I was not sure what I was getting into. But after my first meeting I had a made great friends and learnt the moves of the first song of a 14-minute melody. Everyone was so easy to get on with and was felt I was definitely part of a like minded group. I was looking forward to going for practices and learning more moves.
The show itself was an eye opener – I was not sure what I'll be looking like on the day as I got my outfit a day before and had no idea on the jewellery or hair and makeup. In the end I was very pleased with the outcome and what the sponsors provided. I enjoyed the whole experience itself and the setup of the mandap and catwalk was amazing. It was great to see my family and friends come to see me and support the event.
Thank you for giving me an opportunity to be part of this event.
~ Varshita Shah, fashion and dance volunteer
---
Phenomenal and energising are just two of the words I would use to describe the experience. The dance rehearsals were very structured with creative dance routine, this was super enjoyable, and I loved the moves and steps we did. It felt exhilarating and fun coming to dance every time and I didn't want the sessions to stop!
Performing brought excitement and nervousness as well but when you're on stage and your time comes everything falls into place and your heart races as you dance to the beat.
Overall it was a thoroughly good experience and would be glad to continue performing.
~ Krishen Vaya, fashion and dance volunteer
---
As I love to dance and wanted to improve my skills and confidence, I thought the Oshwal Wedding show would be a great experience for this. For several Friday's before the main event, I would drive to the Ekta Centre for dance rehearsals. However, feeling tired from the working week and drive to the Ekta centre being stuck on the north circular, sometimes I would think I'd rather be at home relaxing on my Friday night. However, soon as arrived and met the team and we began practising the dance routine. I felt so uplifted, it was such a great atmosphere during practice, and we had such fun. It actually became a place where I would not think about the stresses of daily life and just enjoy myself.
On the day of the event, as I walked into the Oshwal Centre I was stunned, I could hardly recognise the place. The two main halls were completely transformed. Both the halls were beautifully decorated with so many exhibitors and visitors. It made me realise how many people would be there to view our dance! Finally, the moment came for us to perform, and I was feeling really nervous. However, I then thought to myself we have spent so much time together practising and perfecting our routine this was our moment to shine! Everyone gave their best for the dance and we all had a great time, walking off stage breathless but buzzing! It was all such an amazing experience not only on the day but all the practice sessions, the laughs and the time we all spent together. I made some really great friends and was sad that we would not be seeing each other again on the following Friday for another rehearsal!
~ Nirav Shah, dance volunteer
---
Community events are a great way to make new friends, build on team working skills, give something back to the community and most importantly have lots of fun! I got involved with the Wedding Show in the last couple of months leading up to the event and it definitely has been a great experience! The dance and fashion show practices were the best as there was lots of masti, our group bonded really well, and I got my cardio workout without going to the gym.
The choreography was very creative and energetic dance routine and the organisers put together a wonderful wedding fashion show. The choice of songs was superb and showed their imaginative thinking. A massive thank you to them for being patient with the group during the practices who all had different levels of experience. After the event I had withdrawal symptoms as there were no more weekly practices at Ekta Centre. The volunteers and guests created a brilliant atmosphere and an exceptional buzz on the event day.
The positive feedback from the wider public and exhibitors speaks for itself. I was glad to be a small part of this huge event in the community.
~ Rajvi Shah, fashion and dance volunteer
---
November 2019 people volunteered to take part in this show as dancers as well as models and much more. I volunteered as a model however I took part in the dances. Being a part of this event was incredible due to the fact I met many people and made friends that are going to be part of my life for a long time. I enjoyed every weekend practising and organising the event with them it was great fun. The main organisers did a wonderful job without them they would not have had a successful event. I'm so proud and honoured to have been a part of this show. Doing this show I gained a lot more confidence. Well done to all the organisers, volunteers, exhibitors. Thank you everyone for all the support and wonderful memories.
~ Saloni Shah, fashion and dance volunteer
---
The story line of the dance show was based on a sequence of events leading up to an Asian wedding from the Chaab (gifts for the bride); a sangeet; vidhai and the actual wedding ceremony.
Choreographed by Meera and Nishi Shah, the dance routines boasted of a variety of Indian dance styles including a Bollywood fusion, Bhangra, a Raas and Garba. There was a range of Bollywood numbers from well-known Bollywood movies including Odhini from Made in China; Morni banke from Baadhai Ho; Nagada Dhol Sang from Goliyon Ki Rasleela Ram-Leela and Subraman from Kai Po Che, just to name a few.
We had a dedicated dance team that practiced tremendously. The dancers included Ayushi, Ashokbhai, Kishan, Meera, Nishi, Nirav, Rajvi, Saloni, Savitaben and Varshista. Our very own Bhavni and Ashish played the roles of the bride and groom.
The audience thoroughly enjoyed the performance and felt as though they were part of a wedding celebration. They were filled with excitement, nostalgia, tearful (when giving the bride away) and laughter.
~ Meera Shah, dance choreographer
Huge thank you to Monir Ali for the event day photography. For more event pictures click here.