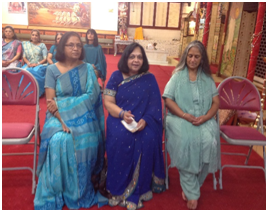 Paryushan 2016 and Workshops
Northampton Area celebrated Paryushan Parva 2016 with great joy, sincerity and devotion.    Considering that we are a very small area we had a good turnout during all the eight auspicious days.
Every evening we had the evening Pratikraman and sticking with Northampton traditions Punjabhai and Jivubhai conducted them.  Our talented singers Mahendrabhai, Jyotshnaben and Chirag sang some very uplifting melodious stavans after the Pratikraman and garbas were played.  Aarti and Mangal Divo followed this.  The atmosphere within the Mandir was positively vibrating over these eight days.
Tapasavis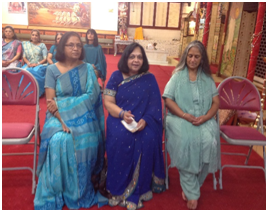 Gita Anil Shah – 11 Maun Upvas
Kumud Rashmi Shah – 8 Upvas
Kanchan Steve Wade – 8 Upvas
Narendra Hirji Shah – 8 Upvas
Shefali – 8 Upvas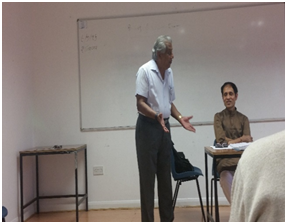 Workshops
On Saturday 3rd September we were very privileged to have the presence of Jayeshbhai Shah of Jain Samaj, Leicester.  Jayeshbhai gave a very insightful talk on Dharma bodh and Bhakti.  He explained, at great length, what Paryushan is, the necessity for rituals and bhakti and very importantly how to make our atma pure.
On Sunday 4th September we had the honour of Shrutiben, Vibhutiben and Prakashbhai of South London Chandana Vidyapeeth.  They conducted a workshop on Dravya and Mohaniya Karma.  The morning session was dedicated to Dravya.  We identified the 6 different Dravyas and its qualities.  One of the lessons to take back home from this was "Our aim is to break from cycle of rebirth and become pure jiva.  We are designers of our own destiny."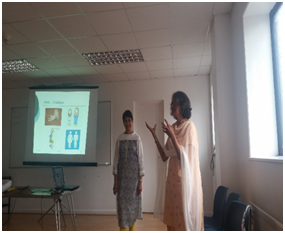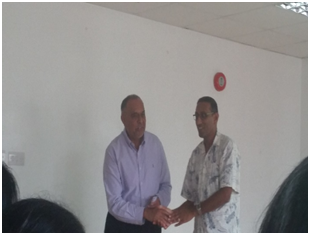 For lunch and the afternoon workshop we had the pleasure and company of Tusharbhai (OAUK President) along with 8 other EC members.   Shrutiben and Vibhutiben gave an excellent talk on Mohaniya Karma and what role it plays in our day to day life, understanding the nature of karma especially Mohaniya which defiles the soul.    The presenters were faced with some challenging and thought provoking questions from bout our members and the EC committee members too.  It was a thoroughly thought provoking and enjoyable session.
We are most grateful to all the volunteers who have helped during this auspicious occasion – without their help and support it would not be possible for the Paryushan Parva to run smoothly.
Michhamni Dukadaam from Northampton Area Oshwal Committee if we have hurt anyone knowingly or unknowingly.
On 11th September 2015 – Reciting Jain Stavans and Swamitvatsalya Bhojan
Oshwal Association of UK Leicestershire and Luton were invited to join us for our programme whereby the Jain Stavans were to be sung by all three areas, to be followed by Swamitvatsalya Bhojan.
Well over 250 members attended and there was a very good turnout from both Leicester and Luton area with Leicester area coming in a coach.  The Stavans were the highlight of the event – we had some very talented singers amongst ourselves.  On average we had about 3 stavans from each area.  The atmosphere was joyous and upbeat with the audience willingly joining in on reciting the stavans and as always ideal opportunity to show some great garba moves.
After the calorie burning garbas, bhojan was served and the …………… laddus were just the thing to replenish some of the used energy.  The disabled and elderly had the first sitting and the food was served by volunteers to them on the table.
Thanks to Luton, Leicester and Northamptonshire Area members for the donations for the Swamitvatsalya Bhojan and all the Northamptonshire Area members for donating towards the Paryushan Celebrations.
Thanks to all the volunteers during Paryushan Celebrations and on the Swamitvatsalya Bhojan – these kind of events would not be possible without your support.
Photos of the Swamivatsalya Bhojan found on our photo gallery.