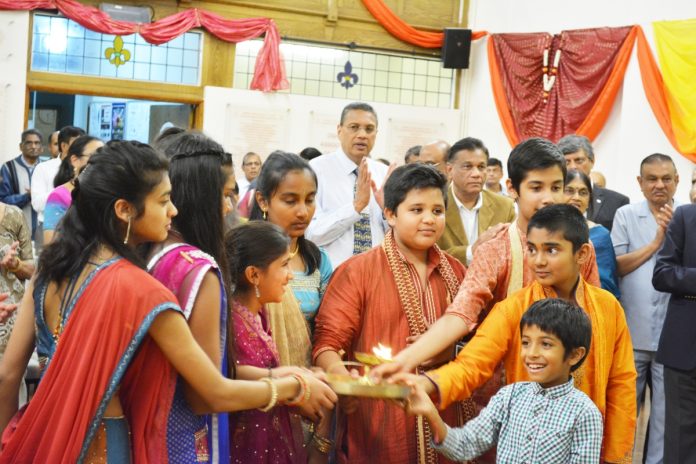 Thursday 1st September 2016 – Tusharbhai (OAUK President) along with other EC members Rexbhai, Nileshbahi, Dhirubhai, Saileshbhai, Sudhirbhai, Ashwinbhai, Mradulaben, Varshaben, Bhavniben, Rahulbhai and Ashishbhai – visited West Area Paryushan festivities.
Chimanbhai (West Area Chairperson and EC Member) warmly welcomed all guests and the evening was filled with music, dancing and plays performed by children and peaceful aarti.
Tusharbhai spoke briefly about the many different events and initiatives which are now being implemented in our Association, emphasising on the Directory verification process which is now underway in all Areas and the focus on Youth activities (not just sports) as a means of engaging our young Oshwals to take part in our Community activities as well as to become the next leaders of our Association.
Tusharbhai and Chimanbhai warmly welcomed and thanked members of the Oshwal Walkers Group (OWG), and Rajnibhai from the OWG gave a short summary of the history of the OWG right from the first walk from Jamnagar to Palitana to raise funds for our Derasar in Potters Bar. The OWG also presented a donation to OAUK for £15,000 to go towards Oshwal Shakti Centre.
The evening really belonged to the children of the West Area Gujarati school who performed not 1 or 2 but 3 plays with music, dancing and story telling. Well done to
Davina Shah, Deep Shatish Shah, Deepa Nayan Shah, Dhruv Limbachia, Nihir Shah, Reenal Shah, Tejal Shah, Tia Haria, Tia Shah, Urvi Shah, Vinya Shah.