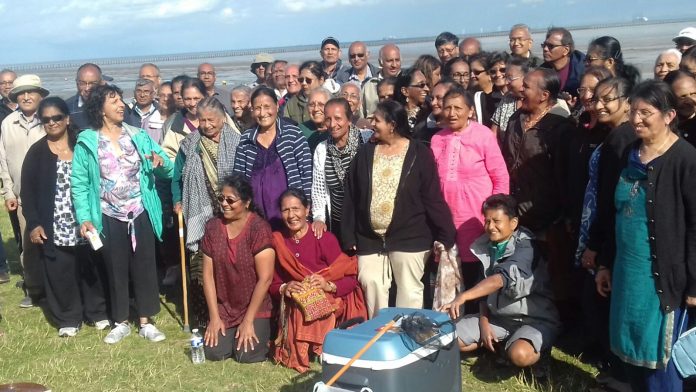 On Sunday 23rd July 2017, 90 people set off for a picnic at Southend on Sea. The range group of attendees was the youngest being 17 months to the eldest being 93 years. What a beautiful fun filled day everyone had! Even though the forecast didn't seem to be in our favour, we were lucky to have a glorious day without rain. The clouds came over around 2 p.m. but with a slight drizzle, it disappeared.
Goody bags containing a bottle of water, carton of orange juice, packet of roasted peanuts, bag of gathias, banana and sweets were given to each person. Lunch of Dhebra, hot moong saak, vada , yogurt and apple katki made at Ekta was given to everyone. All the food was made at Ekta Centre by the volunteers. We also had homemade flapjacks made and given by Pramilaben Rasikbhai Shah and Chikki made by Sudhaben. Both items went down very well.For afters we had watermelons and tea.
We enjoyed a Yoga session by Dinaben. We also had three tables of Bhukhar players. Others enjoyed the walks while the rest just relaxed. All in all, it was a great day out for everyone and the location was superb.
We would like to thank everyone who helped out in making the picnic day an enjoyable experience for all.