Jai Jinendra,
With the school term nearly completed, I am sure our Oshwal Youth are looking forward to a relaxing break during the summer holidays. The summer months are also the time when our Centre at Northaw is at its busiest, with so many couples choosing to start of their married lives together by celebrating their marriage at our beautiful Centre and being blessed in our Jinalay. Such events are beautiful and memorable.
However, as a community like many others, we are facing some difficulties and we need to address them if we are to be successful over the coming years. Many of you may recall in the past, we all used to socialise and visit our relatives and family friends houses regularly. Through this our children made friends in the community, we learnt our mother tongue, culture and the strengths of sharing and living together.
Today social visits 'beswa javanu' is no longer so common. At weddings and receptions, other than immediate family, invites are all Mr & Mrs only, and the children do not get invited to many such celebrations. This has meant they are also missing out on the social and cultural upbringing within our strong community.
This is one of the main reason why we are seeing many youth now finding their life partners at a very late stage. It is very important for to us engage and ensure our youth involvement in all our lives to ensure Oshwals, as a community are to prosper over the years to come.
With these thoughts in mind, we are even more focused to ensure we do organise regular more inclusive 'joint events' to ensure Oshwals of all age groups are able to meet and socialise at our Centre's or other venues.
Following on from the success of last year, I am pleased to inform members that that after Paryushan this year, Savantsari Bhojan will be celebrated on Sunday 11th September. Again this year, it is being organised jointly by North, North East and North West Area.
Last year we received lots of positive feedback from so many members. Most common comments were of joy at the chance to meet so many Oshwals on the same day, to share a laugh and catch up with news!
---
Summer Camp!!
The new Executive Committee has its focus on our youth, our Future! This year on Saturday 10th September, through our youth team, we are organising a Camp (in tents!) at Oshwal Centre.
We are re-launching our Youth Oshwal Volunteers Group (OVG). OVG brings our youth together from all the Areas and get them involved in fun, games and some volunteering work for the community. This aspect is even more important today, as schools and employers are not focused on just what a youth has done academically, but what other achievements he/she has excelled in. OAUK is launching a personal record book whereby all charitable work done by our youth who sign up to The Oshwal Youth Volunteer Group is recorded as a future reference for their CV.
There is no cost to the youth of Oshwal Members to become part of OVG. Only requirement, both parents must be members.
---
Clothes & Book Collection!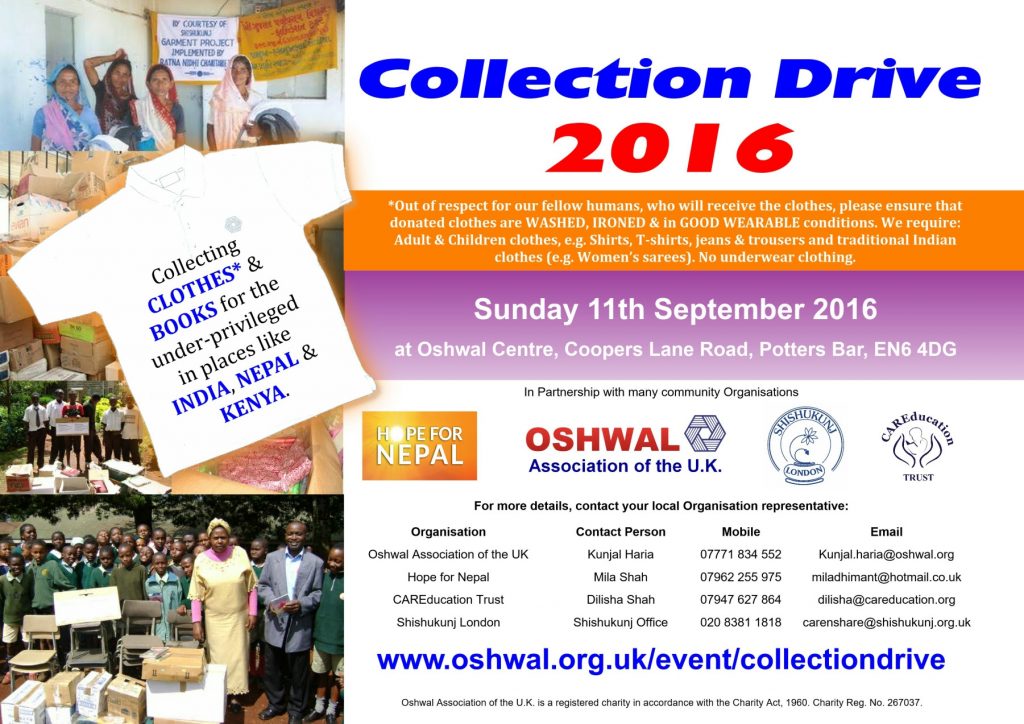 With the relaunch of The Oshwal Youth Volunteers Group, On Sunday 11th September, our Savantsari day at the Centre, OAUK having linked up with Shishukunj, CAREducation and Hope for Nepal are organising a collection of educational books and good clean clothing for India, Nepal and Kenya. (Final destination and logistics are still being discussed).
On this day, we would like all the youth to participate in this task to help sort, pack and load the clothes and books. Only primary and secondary English books are required. With schools nearly finished we encourage all to collect from their local schools or to save their text books for this worthwhile cause. If you wish to donate clothing, please only bring clothes freshly laundered, and fit for purpose. Please do not donate torn, worn out clothing, underwear etc.
For the youth that are unable to attend on Saturday for the camp, we encourage you all to come on Sunday to help out with this aspect of our work and also join OVG
We still have some planning to finalise and more details will be published in our forthcoming Magazine, website and future E-Letters.
For further information please contact:
Bhavni (E) bhavni.shah@oshwal.org and/or Kunjal (E) kunjal.haria@oshwal.org
If any members wish to sponsor any aspects of the OVG camp, T-Shirts for OVG, the logistics of the Clothing collection etc. please contact me on my email or telephone number below.
---
Youth Seminar Series
Going forward through our Oshwal Business & Professional Network, we are planning a series of workshops and networking events to engage all youths and professionals to help them in their education and careers. More details will be published on our website and through eshots in the coming weeks. We are still in the planning process for this, and if you would like to be part of the team to help with this, please contact:
Rahul (E) rahul.malde@oshwal.org
---
Dhaja Din
11th September is also Dhaja Din, our annual Flag raising ceremony on our Derasar. In the morning Jayeshbhai, a talented Vidhikar from Jain Samaj Leicester is conducting a Sattar Bhedi Puja at Oshwal Centre. At 12.39pm we will be raising the Dhaja on our Derasar.
To give every Oshwal the opportunity to participate in this very auspicious ceremony, once again we have organized a token Draw. Tokens are available from all our centres and during Paryushan. Each token is £5.00. In buying a token you have effectively participated and from the draw, one lucky family will have the chance of raising the flag on our beautiful Derasar. We encourage all Oshwal's to participate in this auspicious event.
---
Diwali Celebrations
Last year during our 10 Year Derasar celebrations we had organised a beautiful stage play, Mayanasundri. Following on from the success of this Natak, we are organising a Gujarati Play for our Diwali Program on 30th October 2016.
All aspiring actors, actresses and dancers wishing to take part we have organised auditions from at 2pm to 5pm, at Oshwal Centre on Sunday 24th July and Sunday 31st July 2016.
Please contact Nileshbhai on nilesh.shah@oshwal.org or telephone no. 07940 557 784  for further details.
---
All Area Pizza Party!!
On Sunday 24th July East Area has organised a Pizza party at Oshwal Centre from 1pm. Please see our web site for further details, link as follows:
www.oshwal.org.uk/event/pizza-party-east-area
---
Anand Yatra
Anand Yatra is a weekly program organized for all to visit the Derasar, to take part in pujas, and to take part in social activities, which include yoga exercises, card games and informative talks. We thank all the sponsors of this event each week.
---
Update on OAUK Properties
Our Local Property Management committee's at Ekta Centre and Shakti Centre, are in discussions to extend and renovate and carry out further improvements to our centers. Again, more details will follow over the coming months.
Following the approval of sale of our South London Mahajanwadi by the members, we are in final discussions with another community to purchase this property from OAUK. Exchange should be completed within 2 months and completion around October of this year. We have also seen many other properties and currently are exploring 3 properties/ land opportunities in the south. Discussions are ongoing.
Oshwal Centre Lift installation was delayed due to many technical difficulties. I sincerely apologise for this delay, as we were in the hands of various professional bodies to help us resolve these issues. The lift has now been fitted and the final enabling building works are being undertaken, before the lift can be commissioned and compliant to current Health & Safety standards.
---
All Area Forum
On 14th August, we are holding an Area coordinators meeting. Any sub-committee member, volunteers, or those wishing to learn and join future committees are welcome to join. Please contact any Area committee member to register your interest.
Happy Holidays!!
Finally on behalf of all the Trustees and committees, I wish you all happy summer and holidays, and look forward to seeing you all over the coming months.
If you have suggestions, ideas, and even any complaints, my contact details are below.
Jai Oshwal
Tushar Jayantilal Shah
Email president@oshwal.org      Mobile No. 07816 430 808