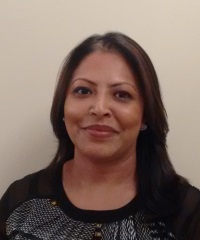 Area
North West
Role with Committee
Area Secretary & Women's Welfare
Email
rakhee.shah@oauk-nw.org
Company / Business
Kennedy Wilson
Role within your company / business
Senior Finance Manager
Education / Qualification
FCCA, BSc (hons)
Profile
Born in Kenya, I moved to the UK with my family as a young teenager. I continued my education to A levels in London, moved to Kent for university and later trained towards becoming a Qualified Accountant in London. I have since worked in a variety of organisations starting my professional career in audit and am currently working with an asset management company.

My work can be very demanding and can consume a lot of my time. In an effort to maintain a good work-life balance, I regularly go to the gym where I enjoy group exercise classes, spend as much quality time as I can with my family & friends and enjoy reading and shopping.
Having spent my early years in Mombasa, I remember the power and influence a good strong community can have on our society. This is something I lost touch with in the last few years whilst at university and focusing on my professional career. In an effort to do more for our community, I decided it would be better to join the forces rather than be voice on the sidelines – hence my recent joining of the North West committee.