Monthly event Saturday 20th Aug 2016 @ St Albans Church Hall, Ilford, Essex This was a Pav Bhaji Evening with Salad Competition. For the competition, Four participants were selected from the attendees.
Mrs  Kanchanben Zaverchand Dodia
Mrs  Kanchanben Kantilal (Budhi) Shah
Mr   Dilip Govindji Shah
Master Reyan Sejal Shah
They were given the same salad ingredients to prepare a salad dish within 30 minutes, watched by the rest of the attendees. The Judges reviewed and tasted each dish and declared all were equal winners.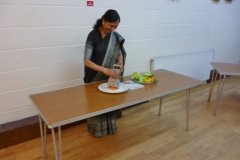 The youngest participant, Reyan Shah was awarded the first prize of  £ 10.00. ( Aswin Virpar Shah Donated the prize money )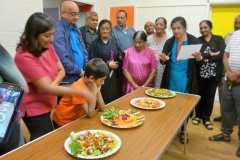 After the competition all indulged in enjoying the delicious Pav Bhaji including the salad prepared earlier.
Pau Bhaji was prepared by Mrs Lalitaben and Pravina Vijay Shah.
The event was well attended including some from North East and North West areas.All attendees enjoyed the function. This can be seen from various photos taken during the function.
To view Ready Steady Cook's image gallery, click here.