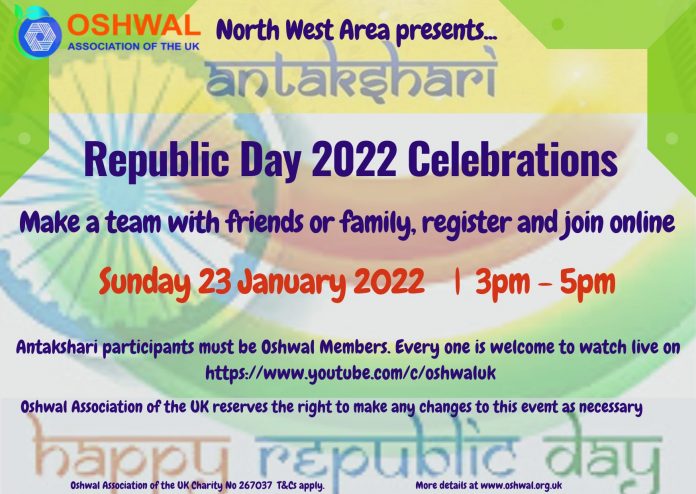 Due to a poor response and not many entries, unfortunately we are cancelling this event
Sunday 23 January 2022   3.00pm – 5.00pm
A wonderful way to pay tribute by joining in our Republic Day celebrations with your team. There will four rounds of Antakshari by Zoom and live cast via YouTube.
We are looking for 10 teams to play against each other – each team to have a maximum of four members only.
A team can be made up of family members or friends – joining via Zoom from multiple locations.
A very warm welcome to all Oshwal members around the UK to participate.
Please read below guidelines/rules before completing the form.  See you all on screen on 23 January for what promises to be an excellent and enjoyable event for the whole family!
Please read below Guidelines /rules:
There will be 4 themed rounds of Antakshari with a chance for all team members to participate
Team leaders will need to pre-confirm team members singing for each round
All participants will be required to have their 'video' on
Sing the title plus ONE stanza of a song only
The judges' decision will be final
All participants to dress smartly – no "T" shirts please.
For more information, contact:
Mahendrabhai Chandaria | 07714 712 713 or Vinaben Dhanani | 07970 426 370
Please join us to watch live stream on Oshwal YouTube channel