The following is an appeal highlighted by a Member, which we encourage all to consider and support.
Let's all do our bit to help Veer and others in need of a bone marrow transplant and help save lives!
---
Veer's Story: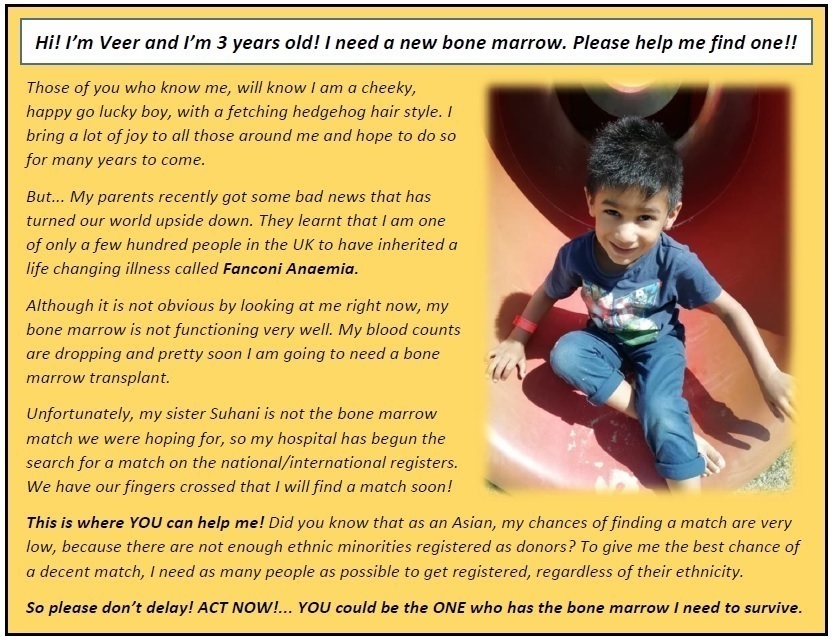 This message is in relation to our son Veer. As you can see, he needs your help, both for registering as donors, and spreading this message far and wide.
Veer has been diagnosed with a life-changing illness called Fanconi Anaemia which affects bone marrow functionality. His blood counts are dropping and will require a bone marrow transplant soon.
If you have been inspired by this story and want to help out our wonderful Veer (and others in need of a bone marrow transplant), you can get registered via the following organisations*:
Organisation: Anthony Nolan
Age Limits: Between 16 and 30 years old
Registration Link: http://anthonynolan.org/HelpVeerNow
Contact No: 0303 303 0303
Organisation: DKMS
Age Limits: Between 17 and 55 years old
Registration Link: http://bit.ly/helpveernow
Contact No: 020 8747 5620
It's a really easy process to get registered. If you meet the age and health criteria defined in the registration form, you will be sent a swab test in the post. All you need to do is swab your cheek in the comfort of your own home, and then you send the swab back in the post. That's it! No blood tests required! If you are a match, rest assured that the process to donate your bone marrow is relatively easy too. To learn more, follow this link: http://tinyurl.com/y2f6qezk
If you are a blood donor you can also ask about bone marrow donation BEFORE your next donation, and they can take some extra blood for this cause.
Another way you can help is by giving blood or platelets. Veer will need transfusions of these, and both are in short supply. You can give both at any NHS blood donor centre. To find out more, please visit:
http://www.blood.co.uk/
http://platelets.blood.co.uk/
Please help us spread Veer's story and share this document far and wide with your family and friends. If you have any questions, please don't hesitate to get in touch with Nirav/Kirpa Gudhka via helpveernow@gmail.com. You can also follow Veer's story on Facebook @helpveernow.
*For people outside the UK, please sign up to your country's respective register(s): http://tinyurl.com/y3ctbuc4
Thank you for your support!
Nirav and Kirpa Gudhka
---
Back to homepage.