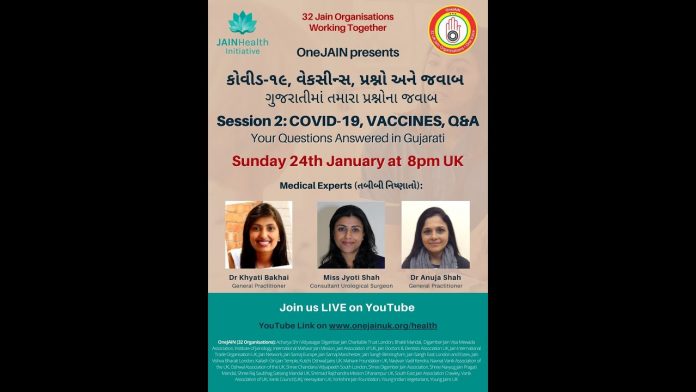 OneJAIN (32 Organisations together) presents a national programme:
સત્ર 2:       કોવીડ-૧૯, વેકસીન્સ, પ્રશ્નો અને જવાબ – ગુજરાતીમાં તમારા પ્રશ્નોના જવાબ
Session 2: COVID-19, Vaccines, Q&A – Your Questions answered in GUJARATI!
Following overwhelming demand and 20,000 YouTube views of the last session, a second important national programme in Gujarati (specially for elderly) will provide more up-to-date information and chance to ask questions.
Date & Time: Sun 24th Jan at 8.00-9.30pm (UK)
Medical Experts (તબીબી નિષ્ણાતો):
– Miss Jyoti Shah, Consultant Urological Surgeon
– Dr Khyati Bakhai, General Practitioner
– Dr Anuja Shah, General Practitioner
– Dr Rajvee Punatar, Research Scientist
– Mrs Arshna Sanghrajka, Clinical Pharmacist
– Dr Ameet Bakhai, Cardiologist & Research Director
Join us LIVE on One Jain YouTube: http://youtu.be/BE0vw-gHLcA
Please share with all GUJARATI friends and family. This event is open to all.