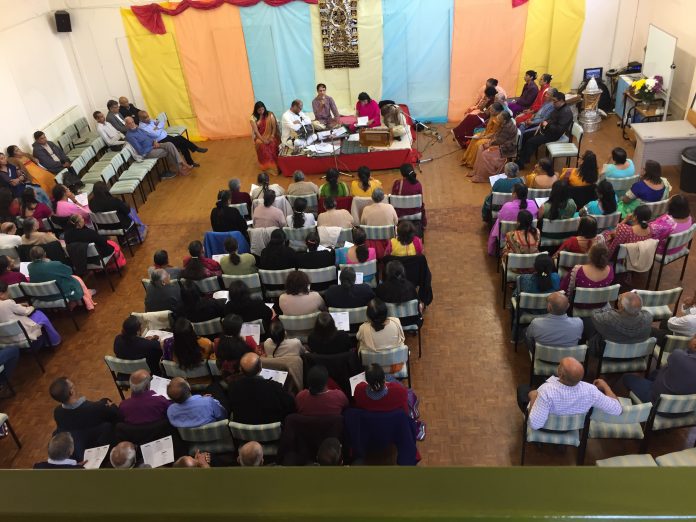 SNATRA PUJA AT THE SHAKTI CENTRE
The below is a brief explanation about the Snatra Puja.
Snatra Puja has been created by in a very poetic style.
It illustrates the celebration of two of the auspicious (out of five) events (Kalyanaks) occurring in last life of Tirthankar Bhagwan.
This Puja and celebration is for all Tirthankars and not specific to any particular one.
Two Kalyanaks narrated in this Puja are Chyavan (conception) and Janma (birth) of Tirthankar. After this life the soul of Tirthankar reaches its climax and achieves liberation from life and death cycle (attains Moksha).
This Puja recital explains the effect of Bhagawan's birth on the whole universe, narrates how glorious the occasion was and how much joys were shared by all the living souls including all heavenly souls.
Puja in end includes Ashta Prakari Puja and wishes Shanti (peace) for all living beings and rejoices the event by performing Aarti, Mangal Divo, Shanti Kalash and Chaitya Vandan.
On Sunday 23/4/17 the Snatra Puja was performed by our Oshwal congregation from all areas at Shakti Centre, with the help of Jayeshbhai, Varshaben and their team.
The entire day was a great success. After the Puja and Arti's, a full lunch was provided, followed by BHAKTI. Thank-you to Dhirubhai and his team from South Area.
The Congregation all joined in with the soul elating Bhakti.
Thank-you to all the Volunteers and helpers from the Oshwal Community!
Photo's have been uploaded to our Photo Gallery.