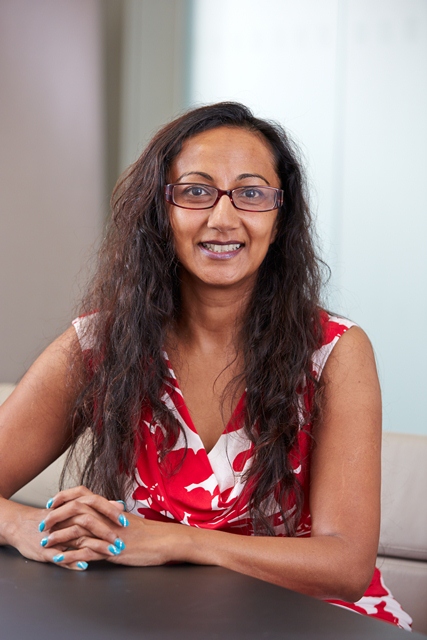 Sumita Shah
I became an avid hiker in my early 40s. It started in 2008, my first charity trek was to Machu Picchu. At that time, in preparation, I joined a Ramblers walking group. This first trek was to be the making of me. There were many firsts on this trip, some of which took me completely out of my comfort zone. On my return, I realised that the whole experience had changed me, from the lead up, the training, the ramblers group, meeting new people had all given me a real buzz and hugely impacted on my life – and so began the obsession with walking, trekking and participating in extreme challenges.
Since that first trek, I have completed several big hikes, probably the most challenging were the charity treks: Kilimanjaro, Everest Base Camp and Mera Peak (only reached basecamp 2 on this one – I call it, 'the one that got away'). I love hiking in different countries, the hikes are usually challenging, but the views are incredible.
A couple of years ago, I took a 6-month sabbatical from the long and busy working life and decided to go solo-travelling. As you can imagine, taking time out like this from a 35+ year career to go off on my own, at my age, was quite daunting initially.
Planning one country at a time, my adventure began in Portugal, trekking the Portuguese Coastal Camino Way – from Porto to Santiago, experiencing spectacular coastal views,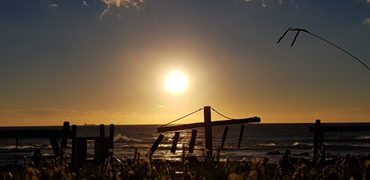 From there, I went to the USA, New Zealand, Australia, Taiwan, Malaysia, India, Japan, Myanmar, and Thailand. I stayed in everything from mountain huts and tents to hostels, budget hotels, and Airbnb lodgings to 5-star accommodation. I met up with friends along the way, did lots of sightseeing, and saw temples galore. People often ask me which was my favorite country. It's always a difficult question to answer as I loved everywhere I went, but in very different ways, as each country had different things to offer.
In New Zealand, I joined a group for an extreme adventure involving NZ-style tramping with heaving backpacks, sleeping in mountain huts and under stars, learning how to cross rivers safely, to rowing wakakas. A steep trek up to Sealy Tarns to get an exquisite view of Mt Cook 3,724 meters and Lake Hooker was a particular highlight.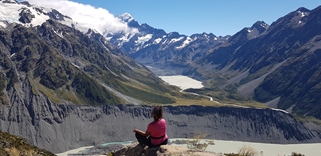 In Japan, I knew absolutely no one, which was initially a little daunting as I wondered how I would get on with the language and food. But I was pleasantly surprised. Japan is one of the easiest places to travel around in, on your own. And the food, for vegetarians, is out of this world. Japanese pancakes, soft and fluffy, are to die for. Visiting Lake Kawaguchiko to see Mt Fuji was a highlight; the visit to Hiroshima, the most moving. Miyajima Island was spectacular at Sunset. I love Japan, its history and culture, its people, and its food.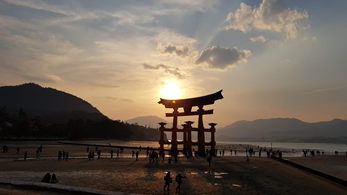 O'Torri Gate on Miyajima Island at sunset
As an African-Asian woman, its almost unheard of to do what I did, at my age, on my own.  The trip truly changed my life. When previously, I had always been risk-averse, now I have shed that insecurity and am much more open to taking more risks.
I returned to the UK at the end of April 2019 and 11 months later, I left my job. My plan was to continue to travel and discover the world while working remotely for clients. The travel part was put on hold as the pandemic hit, but it gave me time to set up my own company offering business mentoring to organisations and civil, commercial, and workplace mediation.
Taking that sabbatical was a big scary step, but it was probably one of the best decisions of my life. My reflections of my trip:
I have experienced the known but experiencing the unknown has been the biggest part of my journey.
Spending time with family and friends was fabulous but being by myself was also exhilarating and liberating. To truly know yourself, you have to challenge yourself and step outside your comfort zone. I stepped out of my comfort zone many a time on this trip.
To be truly at peace with oneself is to know that you can be on your own, in solitude, enjoying your own company and being content doing your own thing.
I have changed…. Change is good, Change is needed. Life is about change.
What used to matter a lot, matters very little but there are lots of things that do still matter…but now they matter in a different way and in a different order…
I used to think that the world is a big place and some places are really too far away to travel to, but now I realise that the world is actually not that big and the furthest corner of the world is only a day or two away.
I learned that I shouldn't let fear stop me. Fear is good. Fear means I am not complacent. Fear will hold me in check from doing completely reckless things. 
 I learned that it's ok to take risks… risks can be opportunities. It depends on how I view the world.
I learned not to be afraid but to 'just be'
I learned that if I have a dream, I should go for it,
The biggest lesson: I am who I am, but I am no longer me.