Talk on Dental & Oral Hygiene and Exercise Session for All Abilities
On Sunday 13th January, our first event for 2019 was a very topical one for the time of year – Health and Wellbeing. Well, to be precise … a talk on Dental & Oral Health followed by an exercise session.
Around 50 people attended this event which started with technical difficulties – display screen issues. Despite this, Dentist Dr Bharat Mehta kindly and effectively delivered the presentation. He addressed the audience in Gujarati making sure everyone understood and answered questions as they arose. He brought along some props and free samples which were gratefully received!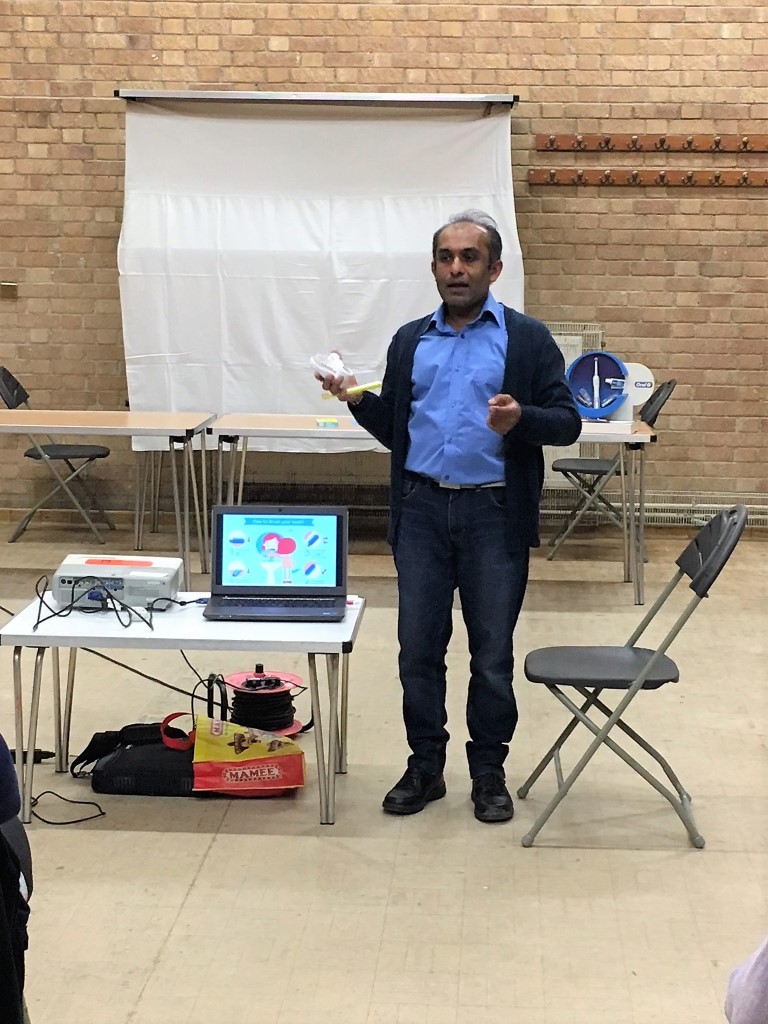 Even though we all think we know the basics of keeping our teeth clean and healthy here are some of the things we learned from Dr Mehta:
Your toothbrush should never wear out but you should still change it every three months due to bacteria build up.
You should spend 2-3 minutes at least twice a day brushing, very gently, covering as much of each tooth as possible – you know you are doing it right when, after three months, your brush is barely worn. Remember you are not using a scouring pad or cleaning your 'chai ne sufario'!
Electric toothbrushes are best – but again brushing very gently and changing the head every three months.
Mouthwash can be a gimmick and waste of money – it is marketed very cleverly as a 'cleaner' but it does not actually clean teeth effectively. Simply used as a mouth freshener is okay but never in place of brushing your teeth. If prescribed by a health professional for gum disease, then follow their advice but bear in mind this should be for short term usage.
Flossing (not the dance – though that may help in exercising the whole body!) is essential – be it using floss string, TePe Interdental Brushes or the water flossing (now considered the best way), always being mindful not to damage your gums by using too much force.
Remember you only have two sets of teeth – baby ones and adults ones! So Happy Maintaining
We also learned that changes to any part of your mouth should be shown to your dentist who can advise if you need to take further action.
Thank you, Bharatbhai, for such an enlightening talk!
We then rearranged the chairs in the hall to get ready for the exercise session of the day. Vanessa Freeth, a personal trainer, came along to give the group an hour's taster session of seated and standing exercises to improve balance and general health.
The chairs were arranged in a semi-circle and Vanessa introduced herself. She said she had not run a class so big and was quite excited to see how it would go with so many different
abilities and fitness levels.
Vanessa handed out resistance bands to all which we used intermittently throughout the session. She started the class with a warm up, then took it up a notch with exercises targeting various muscles of the body – upper and lower body – and ended with a well-deserved cool down session.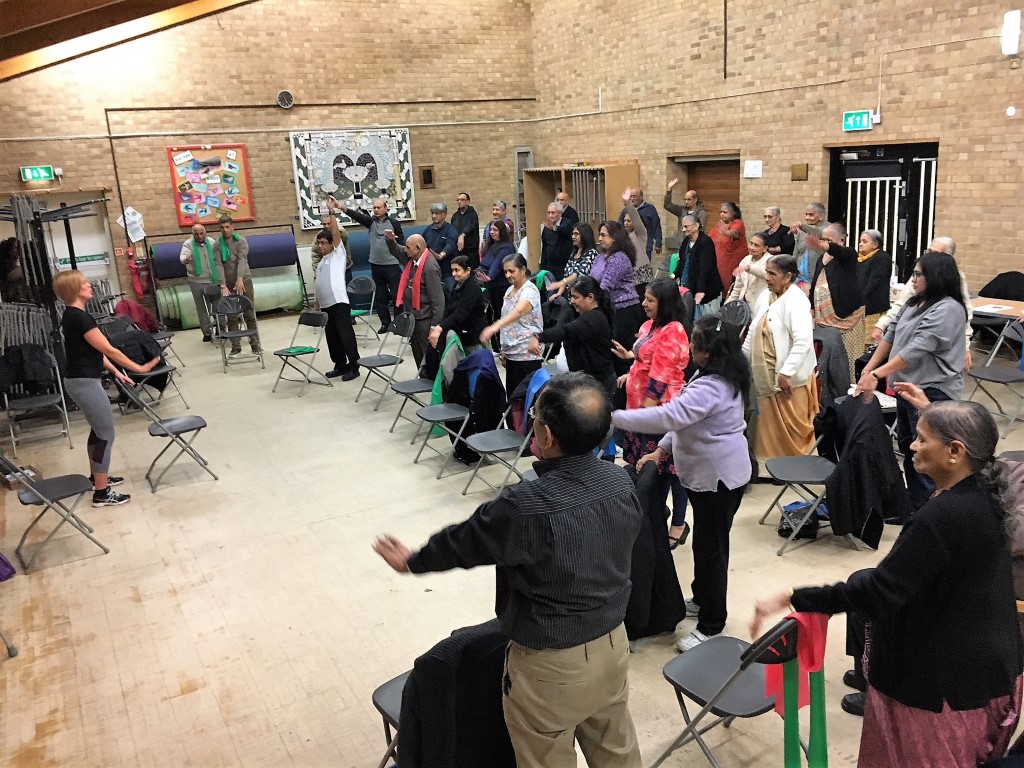 Some of the less able, elderly or injured attendees stayed seated but joined in the whole class as Vanessa adapted the exercises to suit everyone. We all thoroughly enjoyed the exercises – and really felt we had done a good workout – it felt good enough that people asked if it was possible to organise a regular sessions!
We ended the event with a meal of delicious healthy vegetable soup – kindly made and donated by Nila and Jayaben, French bread, tea and as a special treat – cake!
We would like to thank everyone for taking part and the committee for their hard work in organising and catering for another successful event.