Saturday 10 October 2020 at 2.30pm UK Time, 6.30pm IST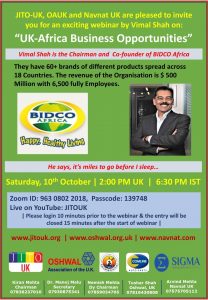 OAUK, JITO UK and Navnat UK are pleased to invite you for a special joint webinar with Vimal Shah, Chairperson and Co-founder of BIDCO Africa.
Join us for a live webinar. Join via www.youtube.com/c/oshwaluk
You can also join via Zoom ID: 963 0802 2018  Password: 139748
This will be an interactive webinar and you can ask you questions by submitting on youtube live chat during the event or on zoom Q&A.
Please login 10 minutes prior to the start of the webinar and entries will be closed 15 minutes after the start of the webinar.