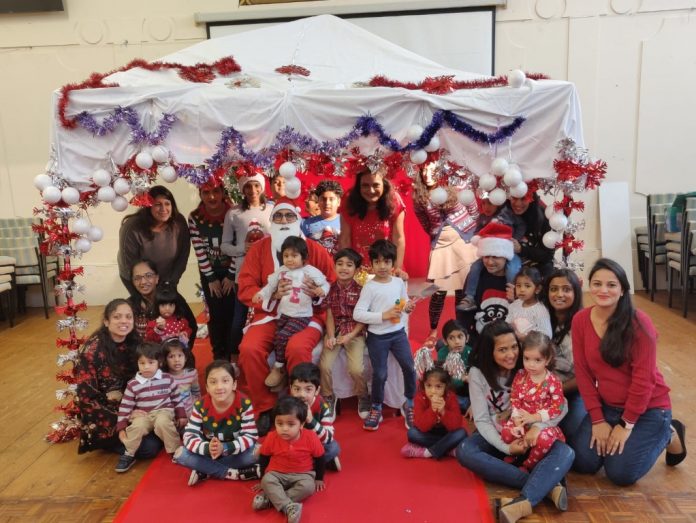 CHRISTMAS JUMPERS GALORE AT SHAKTI CENTRE
It was certainly feeling Christmassy at Shakti Centre with our favourite Christmas songs playing.
On the afternoon of Saturday 8th December, the West Area Youth Sub Committee organised yet another successful youth event – this time it was our annual Children's Christmas Party. The Christmas tree was up and our amazing volunteers even managed to create a Santa's grotto! The event attracted nearly thirty children aged between 1 and 14! Every child came in their most festive Christmas Jumpers or T-shirts and it was good to see the parents join in too!
The event comprised of various fun and exciting activities including a gingerbread decorating station, a Christmas card making station and a salt dough tree decoration station. A special guest arrived after the children (and adults) finished with the initial activities. The children waited patiently for his arrival! Yes – you've guess it – Father Christmas came to Shakti Centre. He was very jolly and had clearly been eating a lot of mince pies! He had presents waiting under the tree for all the children who have been generally good this year.
Unfortunately, Santa could only visit for a short time. Which meant the volunteers were on hand to entertain the children. They played musical chairs and musical statues which meant everyone worked up a good appetite which was just as well because it was time for food. The volunteers helped create a lovely feast for the children which was very well received!
I would like to take this opportunity to thank the youth subcommittee (Arti, Neha Mukesh, Dilan, Aryan, Ashmi, Minal and Neal) for their efforts in making this event happen and the support of Jinitaben, Manjuben and team for their assistance in the food preparation – it was absolutely delicious!
Once again thank you to everyone who attended and supported this event, and for all your donations, without these we could not continue holding these wonderful events which bring our youth together. Keep a look out for the next under 12's event.
Ashmi Shah
---
To see more pictures, click here.
Back to West Area page.