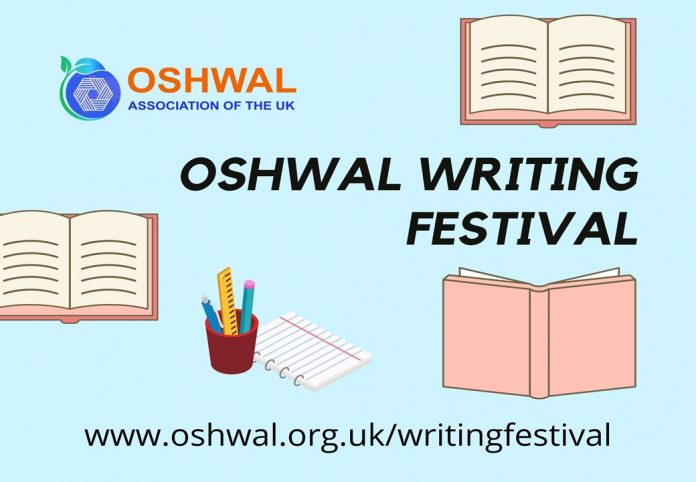 Overseen by Oshwal Media Programme Students
To celebrate the launch of our Youth page on the new website, we are launching the Oshwal Writing Festival! We encourage all of our young members to submit blogs, short articles or vlogs (c. 300-500 words) which will be featured on our website.
This a great chance to have your work published and get involved with our community despite being distanced during the COVID-19 pandemic. You can start a discussion amongst fellow Oshwal members about any topic of your choice.
There are three categories (Juniors aged 12 and under, Teenagers aged 13 to 18 and Young Adults aged 18 to 35). Below are some suggested themes, however you are welcome to write about anything you want.
Juniors (aged 12 and under) suggested themes:
My lockdown life
What community means to me
My Oshwal acronym
Starting school
My role model
Teenagers (aged 13 to 18) suggested themes:
School life
GCSEs and A-levels
Hobbies
Parent's and peer pressure
A cause that's important to me
Young Adults (aged 18 to 35) suggested themes:
A social movement that's important to me
Settling in at university – my experience
Careers and life after university
Mental health in the Oshwal Community
Life after lockdown – what to do next
Rules
Please send your blogs in a Word Document format, along with a feature photo of yourself to youth@oshwal.org. We look forward to hearing about the things that matter to you. ?
Submission of an entry does not guarantee that it will be published on our website. Please pay attention to the following rules:
Your blog must be written by yourself and no one else
Your blog will not contain any hate or defamatory speech
Your blog will not infringe copyright, intellectual property right or in any way breach another's right
Your blog cannot publicise or advertise any business and/or product and/or service nor must it be self-publicity
Check list for submission
Your blog meets the above rules
Your blog is 300-500 words
Include your full name
Include a picture of yourself (landscape format only)
Include which of the above category you fall under