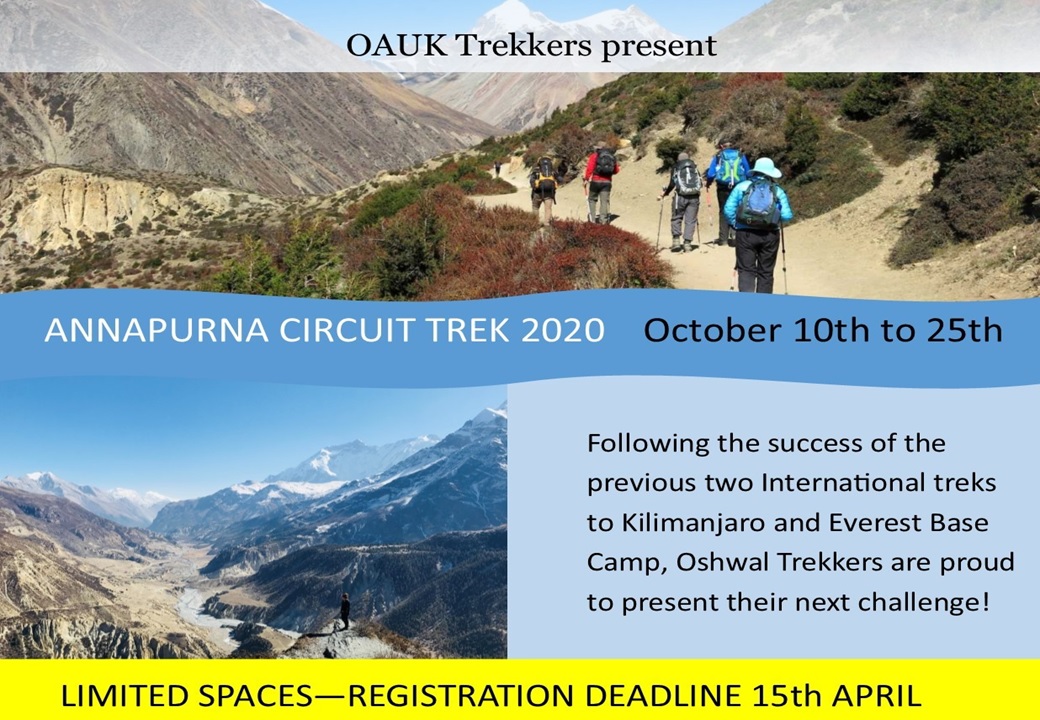 Hiking Nepal's Annapurna Circuit is one of the most stunningly beautiful, life-changing experiences you can have on your travels, and we're pretty sure that, like us, you'll be absolutely captivated by the area from the very first day. Winding through some of the world's tallest mountains and diverse climatic zones, intensive days spent on your feet, and enjoying the beautiful hospitality of the Nepalese people and their quaint mountain villages : the 16 days you'll spend in Nepal are some of the most inspiring and challenging you'll ever encounter.
Ready to join us on the trek of a lifetime! You need to be fit and in good health and committed to train regularly to get yourself ready. We will be fundraising for a charity, details of which will be communicated shortly. To sign up, download and read the AC2020 Information Pack, and download the AC2020 Trek Sign up Form.
To secure your place please follow these steps:
Complete and sign the form and send it to shailan.p.shah@oshwal.org
You will be sent a unique applicant reference number
Pay your £200 deposit to Oshwal quoting your unique applicant reference number. Bank details below.
Your place is confirmed when you receive an email confirming that the deposit has been received
There are limited spaces available so be as quick as you can. Registration will close on 15th April, or sooner if all 40 spaces have been taken up.
Download Info pack, click here.
Download Sign-up form, click here.