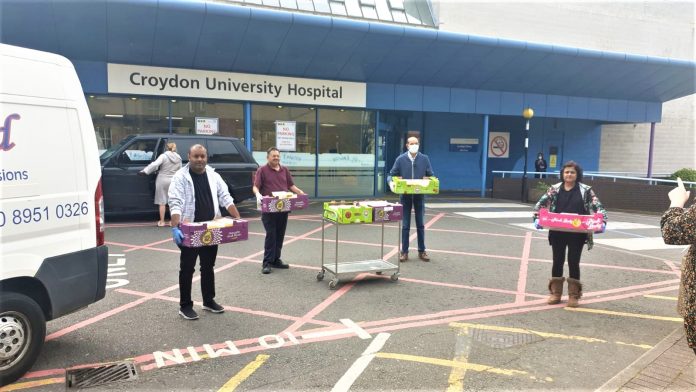 Pranam,
I hope you and your family are all keeping well and safe in these difficult and unprecedented times. Whilst many of us are staying safe, at home, as advised by the government – there is a significant proportion of our peers who are risking their lives to ensure we are looked after. Thank you to all those ensuring we are looked after in the supply of daily essentials, such as those working in supermarkets, pharmacies, medical services and public transport.
Oshwal Association UK has been active in making sure our members and community at large are being catered for. OAUK has been busy helping the NHS staff by supplying meals to various hospitals: Watford General, Chase Farm and Luton General.
Oshwal Association UK, in partnership with Dips Catering (Dipen), Croydon Fruiterers (Anil), DNS Accountants (Rupal) and Kiran, came together delivered over 300 meals today to our heroes at Croydon University Hospital.
This a just a small token of our appreciation to NHS and its staff for their help during what is a very difficult time for them.
Oshwal South Area has donated £250 this week to Croydon Nightwatch, caring for homeless people in Croydon. This money will money will help them purchase urgently needed food, clothes and toiletries to help the homeless.
We recognise there will be a need elsewhere, and many of you have asked how you can help in this task. There is OAUK Covid-19 helpdesk that has been set up to help those in urgent need of help with shopping, meal, medicine collection or just someone to talk to.
Helpdesk number: 07538 675 548 or email oshwalsewa@oshwal.org
We have also set up a Coronavirus Sewa Fund to help those in need and we appreciate their tireless work.
To donate please visit www.oshwal.org.uk/donation
If you would like to donate please use the link below and donate generously.
Paresh Raishi Shah
OAUK Trustee and South Area Chairperson