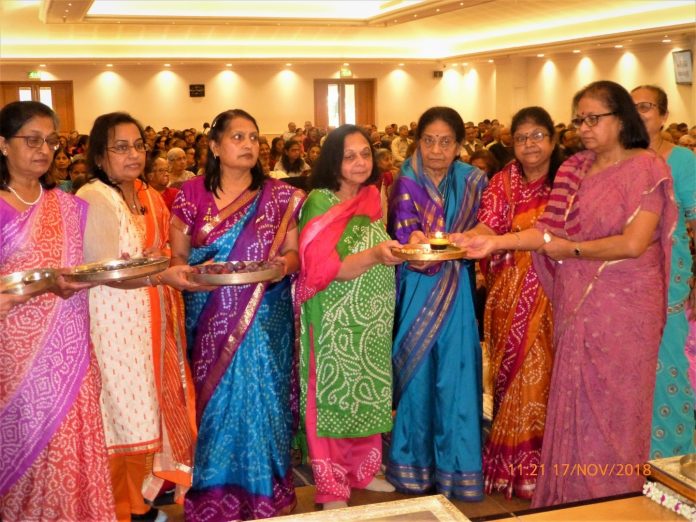 Oshwal Association of UK Northamptonshire Area hosted the above programme at Oshwal Centre.
A warm welcome was given by Hansaben Jayantilal Shah to all who attended.
This programme was conducted by Pujya Shree Jayeshbhai.  It was started off with Navkaar Mantra Dhun followed by reciting Namaskaar Maha Mantra twelve times by everybody present.
Namo Arihantanam
Namo Siddhanam
Namo Ayariyanam
Namo Uvajjhayanam
Namo Loe Savva sahoonam
(Pada – 5, guru -3, laghu – 32, total alphabets – 35)
Aeso Pancha Namukkaro,
Savva Pavappanasano.
Manglalanam cha Savvesim
Padhamam Havai Mangalam
(Pada – 5, guru -3, laghu – 32, total alphabets – 35)
 The five worships below are destroyer of all sins and this is the first beneficent among all benefactions
I bow to the Arihantas (with body), the omniscient (knowing everything).
I bow to the Siddhas, the bodiless liberated souls.
I bow to the Acharyas, the heads of the four – fold order.
I bow to the Upadhyays who are next to the head.
I bow to all the Saints in the universe.
We call the above as the Namaskar Mantra because all Jains bow to all the padas mentioned above with mind, body and speech and honour it highly. The Mantra has two Lords: – Arihantas and Siddhas, three Gurus: – Acharya, Upadhyaya and Sadhu. These five collectively known as the five excellent Souls make up of five padas.
Arihant Pad –First post in Navpad- a person who is purest soul in the universal with a physical body.  No anger, greed, hatred, ego and deceitfulness would be present in this soul.
Siddha Pad – Second Post in Navpad – Liberated Soul. He is the purest soul in the universe without a physical body. One becomes Siddha after attaining salvation.
Acharya Pad -Third post in Navpad.  Acharya is the successor of Arihant and leader of the four-fold Sangh established by the Arihant.
Upadhyaya Pad – Fourth post in Navpad.  He preaches monks and nuns.
Saadhu Pad – Fifth post in Navpad.  He would practice 5 vows – abstaining completely from violence, lie, stealing, sexual conducts and possessions of earthly things.
More details descriptions, found on this link:
Paying heartiest obeisance to these five great Souls helps the devotee annihilates all his sins and is highly benevolent to the Soul. It bestows physical and spiritual gains. Navkar Mantra is relevant not only to the Jains but to each and everyone who wants to get rid of the wheel of worldly existence and attain liberation as the ultimate aim of every Soul is 'Moksha".
Devotees from all 9 areas, satsang mandalas were called in turns for Naived, Fal and Vaakshep rituals.  Whilst this ceremony was being conducted, Jayeshbhai explained the importance of the 5 Pads (Arihant, Siddha, Acharya, Upadhyaya and Saadhu) and Navkaar Mantra.  Melodious Bhav geet were sung by Jayeshbhai, Vivakbhai, Inaben, Pushpaben, Shobhaben, Shobhaben, Shardaben.  Thank you to Manishbhai for playing the keyboard, Kenil for controlling the sound system and most importantly Dilipbhai Mohanlal for ensuring all lyrics were displayed on the TV screens in a timely manner.
Uchavni for Aarti, Mangal Divo and Haar for Navkaar Pad was commenced by Jayeshbahi.
Thal and Haar ceremony was performed by Ranjanben, Jayaben, Hansaben Laxmichand, Ashok Tejshi, Pushpaben.
Navkaar Mantra Aarti was performed by Prafula Shah, Kasturben Somchand Shah in memory of late Somchand Meghji Shah
Mangal Divo was performed by Rashmikant Mohanlal Khimasia and family in memory of Late Mohanlal Shah
A tribute to Pujya Gachchapati Gurudevshri Jaygoshsurishvarji Maharaj –Smaranjali was also conducted by Jayeshbhai.
We were very privileged to have the opportunity to do bahuman of Manoramaben Anilbkumar Malde, as with blessings of god, she celebrated her 75th Vardaman tap Ayambil holi.
Sangh Poojan ceremony by Northampton-shire Area took place in unity hall as all the devotees, ravenously hungry, queued up for a piping hot delicious lunch.
Preparations for this event started early in the early.  The area is very thankful to Pujya Shree Jayeshbhai, Pushpaben Jayantilal and team for all preparations for setting all the stands etc on the stage, Sobhagbhai for putting up the backdrop and to all the musicians.  A big thank you to Hansaben, Jaiwantiben and team for providing catering services.  The area is also thankful to Anilbhai and Rasikbhai to oversee all duties in the kitchen area which ran very smoothly.   We also convey thanks to all the volunteers from all areas who helped with setting up tables, chairs and clearing up after the event.
Thank you to Ushaben and Hansaben, our religious portfolio holders, for organising such a successful event.  All the attendees must have derived a very educational spiritual experience.
Please click here to view photos from this event.