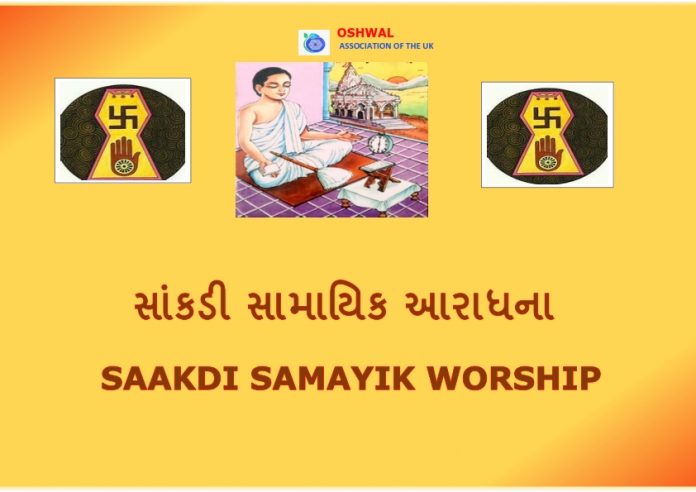 Thursday 1st July 2021 – 31 August 2021 
Pranam all,
Saakdi Samayik Worship –  from 01.07.2021 to 31.08.2021,  from 5.00 am to 12.00 midnight has been organised by the Oshwal Association of the U.K. Kindly register your names for one hour, to perform one Samayik every day. During the one hour time that you have registered, following the 48 minutes time of Samayik, spend the remaining ten minutes in religious worship after concluding the Samayik in order that your full one hour of worship can be counted.
Chaatur Maas and Paryushana are approaching soon. For the purification of accumulated karmas during the year, one should try to perform Attham Tap (3 day fast) by the commencement of Paryushana.  If it is not possible to perform this Tap, then perform Jaap of 60 Malas of Navkar Mantra during the two months, that is during Samayik worship, chanting of one mala of Navkar Mantra every day will be considered as fulfilling your duty.
Moreover, all are requested to recite the Prayer of 8 Stutis – Dharmabeej Prarthna for the advancement of the seeds of religion planted.
Please contact the following persons to register your times and names for the Samayik Worship:
Champaben M Shah – 07931086619
Pushpaben J Shah – 07956738744
Anilaben H Shah – 07999958779
Shobha H Shah – 07958447298
 Let us all devotionally with our mind body and soul join in this worship.
To download details in Gujarati, click here.
To download the Bodhibeej Prayer in Gujarati, click here.
To download the Bodhibeej Prayer in English, click here.